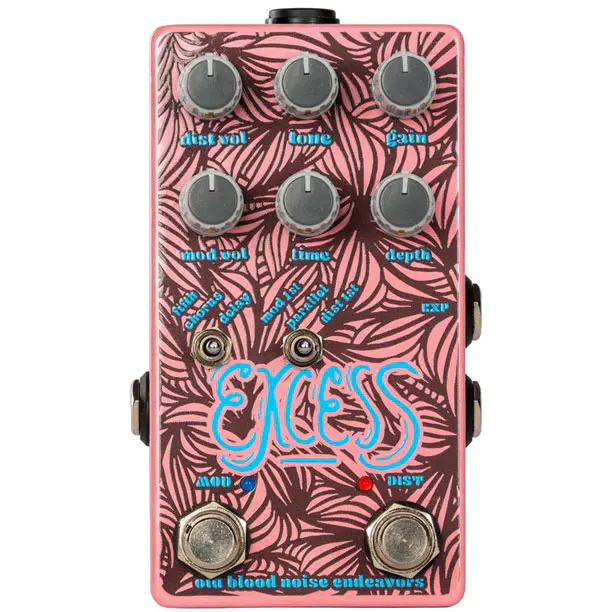 The Old Blood Noise Excess V2 updates the '80s-flavored (pink) modulated distortion pedal by the Oklahoma company with a case that's 1/2 the size of the original unit and updated features, including a selectable harmonized fifth mode (which was there but "hidden" in V1) in the modulation channel.
This is a pedal that was thought with the shoegazer crowd in mind (and similarly experimental-leaning guitarists), providing all the basic effects for the ethereal wall of sound the genre has become known for, but V2 expands its genre reach by allowing it to produced clean modulated tones without distortion.
V2 features separate footswitches for the distortion and modulation channels, while the original had an on/off footswitch and another one to switch between the delay and chorus on the modulation side. The distortion section can produce several dBs of extra volume compared to V1, with controls for Gain, Tone and Volume (top line of knobs).
The 3 modulation modes, whose parameters are controlled by the second row of knobs are Chorus, Delay, and Fifth – they all deliver a chorus effect, with added delay and (polyphonic) fifth in the last two modes listed.
A second Routing toggle allows to reverse the order of the effects or run them in parallel, which opens up an entire world of sonic possibilities.
An internal trimpot allows to to fine-tune the wet-dry mix of the modulation section, while an Expression jack allows controlling externally the modulation's Rate and Depth.
Check out the videos below – more info about the pedal under it.
Old Blood Noise Excess V2, Builder's Notes
Expanding on the Excess, Old Blood Noise continues their journey to revive and expand sought-out pedal sounds of the 80s. With delay, chorus, and harmonized fifths available along with distortion in series or parallel configurations, Excess V2 unveils more sounds and even more control.

Excess features:

Three modes of modulation (Delay, Chorus, and Fifth) each with Time, Depth, and Volume controls

Distortion section with control over Gain, Tone, and Volume to access light overdrive through fuzzy distortion

Order switching to run Distortion into Modulation, Modulation into Distortion, or separate parallel paths

Soft touch switching and true relay bypass for each section

Expression jack to externally control Rate and Depth

Internal trimpot to set wet-dry mix of Modulation section

Requires at least 125mA 9VDC center negative power
---
Here's V1, with videos below.
And here's another video by Eric Merrow:
Gear used:
Guitar – Gibson SG Standard | Collings SoCo
Amp – Boss Katana 100 (Rec out into interface)
Mic: Oktava Mk 012 (voice)
Interface – Presonus Audiobox 22vsl
Software – Garageband | Adobe Premiere Pro CC | Adobe After Effects CC
The Old Blood Noise Endeavors Excess is everything you need for your next ripping session in 1985 and beyond.  The goods : high gain distortion, lush chorus and slapback delay in a selectable series or parallel signal path.

The Excess has separate volume controls for both the Distortion and the Modulation effects.  The modulation mode is changed via the secondary stompswitch which changes between chorus and delay.

The signal path can be changed by the SERIES / PARALLEL toggle switch.  In Series mode, the Distortion effect flows into the Modulation effect, stacking their sound and volumes.  In Parallel mode, the two effects are summed to a single output, resulting in a clear modulation with a distorted layer underneath, cleanly separated.