Welcome to our user's guide to the best Uni-Vibe pedal clones and evolutions. For more realistic Leslie speaker simulations you may also want to take a look at our article about rotary/Leslie pedals, or the one about phaser pedals, an effect derived from the Uni-Vibe. 
—
TABLE OF CONTENTS (click to jump)
—
Sometimes (more often than not?) life sends people and things on unexpected trajectories. The intriguingly named effect Uni-Vibe has a story to tell in this regard.
The Original: Shin-EI/Univox Uni-Vibe

Originally manufactured as a stand-alone effect (i.e. no footswitch) by legendary Japanese manufacturer Shin-ei, the Uni-Vibe was conceived in the '60s as a portable Leslie speaker emulator (i.e. a small, "pluggable" version of this giant). Not a terrible idea if you ask us… however, the product bombed rather badly among keyboard players.
Except, towards the end of the decade, some guy named Jimi Hendrix, and then some other guy named David Gilmour grew fond of it, and started using it live and on what came to be a few immortal records (notably, you can hear it in Jimi Hendrix's "Machine Gun" and in the arpeggio-ed guitar in Pink Floyd's "Breathe" – go to 1′.13″ in the video).
Here's a demo of an original Uni-Vibe from 1970: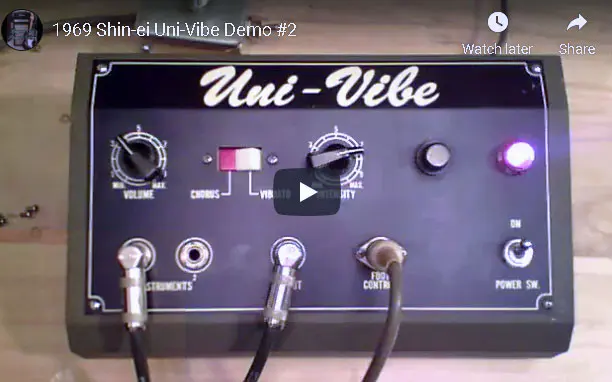 —
What Is a Uni-Vibe?
| Click here to expand/shrink this section |
—
So, if you'd like to take home the original Uni-Vibe unit from the '60s, you better start looking around (they are extremely rare) and have $3k or so to burn. But, if you are a shredder with a limited budget like us, here is a thorough list of the Best Univibe pedals on the market you can afford, organized by type and popularity!
---
The pedals in the following interactive galleries are organized in order of "perceived popularity." To hear/see the video demo of the effect, click on the images or tap twice.
—
• Best High-End Uni-Vibe True to the Original
We begin, as usual, with a list of high-end pedals on the market designed to faithfully reproduce the original Uni-Vibe. Some of these are authentic re-creation—employing the same exact components as the Shin-ei unit—while others attempt to improve on the original circuit without necessarily taking it to new places.
This device's circuit is as close to a Uni-Vibe replica as it gets. Built by the original manufacturer (although today's Shin-ei has little to do with the one that released the original effect), this is a hand-built version of the Uni-Vibe using a mix of carefully selected new and old components, and designed to recreate the vintage unit's exact sound and behavior, with a few modern improvements.
Slightly smaller than the original version and solidly built, the Vibe-Bro delivers a gorgeously lush, complex, and textured sound just like the one from the best-sounding vintage units. As expected, it has an option to activate true bypass, avoiding the tone-sucking typical of older Uni-Vibes, although the "non-true" bypass routing setting sends your signal to a preamp whose warm character and color are appreciated by some guitarists.
Just like the original, it allows you to connect an expression pedal to control the effect's rate, but attention: you'll need a pedal with a 6-pin DIN connector, so only the Shin-Ei $199 model will work with it. And that's something you may not want to hear after having spent over $700 for the pedal itself…
Pros: It sounds just like the original unit, solidly built, with a slightly smaller footprint; true bypass option. | Cons: Rather pricey; the expression pedal has a proprietary input that only works with the company's accessory.
—
Here's a list of other more affordable but still extremely authentic-sounding options:
Pedal Pawn Gypsy Vibe
A Uni-Vibe clone almost as large as the original running at 18v and featuring hand-selected, hermetically sealed photocells, lightbulb lamp matched to original spec. Fully hand soldered and hand-drilled, the pedal features the same controls as the original, and a bigger speed knob that can be controlled with your foot.
Shin-Ei Vibe 2
A smaller version of the Vibe-Bro launched, with extra slow and fast speed controls, which can be toggled through the second footswitch. It shares most of the NOS component of its big brother, including True Bypass but it's a lot more affordable, maybe because of cosmetic issues and slightly lower overheads.
Sabbadius Fillmore East Funky-Vibe, 2020 Edition
Hailing from Argentina, this is a thoroughly researched Uni-Vibe recreation that captures the "chewy" sound of the Uni-Vibes Jimi Hendrix played in 1969 and 1970. A Cancel footswitch allows you to use the pedal as a Pre-Amp with the character and color of the original Uni-Vibe effect. The Funky-Vibe Woodstock edition improves the effect's intensity and delivers both faster and slower speed rates.
Black Cat Vibe
A popular but now almost impossible-to-find recreation of the original classic and probably the first stereo vibe. The circuit features slight improvements over the original to increase reliability. Also available in half-rack format.
MJM Sixties Vibe
A hand-wired, classic take on the Uni-Vibe design with accurate photocells and controls. Capable of great low-end "throb", just like the original, it runs at 18v for higher headroom and sports a case a lot smaller than the original, which is always welcome.
King Tone Vibe 1968
A high-end dual-channel Uni-Vibe where each channel has controls for mode (Chorus/Vibe), Depth, Speed, Bulb and Symmetry. The former adjusts the brightness of the bulb inside the pedal, producing a more or less "wah-like" effect, while Symmetry modifies the shape of the sine wave, producing a variety of LFO types. Internal trimmers set Volume, Mix, and global functions for Ramp Speed, Top Speed, Lowest Speed and Depth.
Horrothia Berkeley Uni-Vibe
A classic, 3-knob take on the Uni-Vibe,  with a signal path almost identical to the original. Some small changes were made to open up the low end and add more liquid movement. Three internal trim pots alter the effect's behavior to match the player's tastes: Input Impedance, Phase Notch Depth, and the complex Voicing control which, at extreme settings, gives it a modern or vintage character.
Formula B Vintage Vibe MK2
This is a well-respected high-end unit from Italy running internally at 18v. It offers the same controls as the original plus two speeds that can be easily switched through a dedicated footswitch.
Tru-Fi Ghost Vibe
A high-end US-built Uni-Vibe replica voiced after an original unit from 1968 and A/B'd against several modern variants. Enclosed in a compact case, it features True Bypass and works internally at 18v for extra headroom.
Sabbadius Woodstock Funky-Vibe
An improved version of the Funky Vibe (listed above) featuring exclusive 7mm custom-made CdS Photocells, which increase the intensity of the throb and feature an improved Speed function that allows for slower and faster rates than the original.
R Weaver FX Violet Vibe
Based on a vintage Univibe unit from 1968, it's an authentic replica with the exact layout circuit board, NOS components including correct spec photocells and bulb, 2SC828 and 2SC539 transistors, and greenie capacitors. It runs on 18vdc center negative. It also features an expression output to control the speed.
Castlendine Supra Vibe
A faithful, hand-made recreation of the original Uni-Vibe, with updates to the power supply for a lower noise floor.
---
•

Best Uni-Vibe Pedal Evolution
Humans are never happy with what they've got, and engineering is all about challenging perfection in the pursuit of newer, better standards. The following pedals aim at refining the Uni-Vibe's original design through a myriad of different techniques like innovations in tubes, sliders, or extra control options.
The Croatian team at DryBell has been invested in the idea of creating the best possible Uni-Vibe pedal for years – and that's all they did from the inception of the company around 2010 until 2019. The result of this commitment was the Vibe Machine V1, released in 2012, one of the most (if not the most) versatile Vibes around, an evolution that retains the tone and character of the vintage units, while greatly expanding on the sonic possibilities.
V2, hosted in a compact case, has your regular controls for depth of modulation, and tone, but also for input impedance (for using different guitars or line in instruments), and output volume. On top of that, six side trimmers let you tweak a series of settings to tailor several parameters related to tone and functions through options like "Grit," "Range," and "Sym."
A "Type" switch delivers the usual "Vibrato" and "Chorus" voices, while the "Tone" switch offers three different EQ settings Original, Bright, and Custom, with the latter's setting being tweaked via a trim pot on the side of the case.
V3, a 10th-year anniversary edition, retains the same tone and functionality but delivers a modulation with deeper depth for a slightly different sonic flavor.
Pros: Versatile yet authentic sounding compact option; tons of extra modern features. | Cons: Quite expensive, extra features may be unnecessary for some players.
—
These are other Uni-Vibe evolutions you may want to consider:
Strymon Ultra-Violet
A digital circuit that carefully recreates all the nuances of the original optical Uni-Vibe circuit, with the added bonus of a stereo output, Midi compatibility, and an extra blended "Chorus/Vibrato" mode that's 30% wet and 70% dry for a subtler effect. A 3-way BIAS toggle with Low, Mid and High settings modifies the shape and timing of the warble as well as frequency emphasis.

Eventide Riptide
A stereo drive + Uni-Vibe with two voicings per effect (green/red), which can be routed either way.
The green drive offers a classic, mid-forward voicing, while the red drive delivers a fatter, smooth boosted overdrive. On the vibe side, the green option gives you traditional Uni-Vibe tones, while the red vibe a more phasey version of it with increased high-frequency emphasis. Fully Midi-compatible.
DryBell Vibe Machine V2
DryBell Vibe Machine V3
One of the most versatile Vibes around, from a company that for several years was fully invested in the Uni-Vibe niche. It has controls for depth of modulation, tone, input impedance (for using different guitars), and output volume. 6 side trimmers let you tweak a series of settings to tailor several parameters related to tone and functions. V3, a 10th-year anniversary edition, retains the same tone but delivers a modulation with deeper depth and character.
Jam RetroVibe Mk3
A Uni-Vibe recreation featuring original NOS 2SC828 transistors and carbon comp resistors, and sporting an internal trim pot that adjusts the sound and feel of the pedal. Like the vintage unit, it offers both Vibrato and Chorus modes and lets you dial in anything from slow-rate wavy sounds all the way to fast Leslie-speaker effect, which can be controlled via an EXP4 expression pedal. Mk3 adds soft click footswitch and improve Expression in compatibility.
Thorpy FX ER-2 Univibe
a quality boutique uni-vibe clone sporting the same a lamp-powered LFO system as the original. The Offset knob subtly changes the way the lamp ramps up, delivering sharper or softer rise and fall of the LFO curve. This can add beautiful yet subtle new textures that expand on the classic uni-vibe sound. A second footswitch allows to switch between the pedal's two voices (Vibe and Chorus).
Effectrode Tube-Vibe
The only tube unit on the list, the Tube-Vibe conjures up some of the thickest, swampiest tones in classic rock.
Bearfoot FX Mint Green Mini Vibe
A personal take on the Uni-Vibe that delivers a modulation sound somewhere between a Uni-Vibe and a Leslie rotating speaker, with controls for Velocity, Amplitude, and Gain. It's often used as a boost with the Amplitude setting down to zero.
Sweet Sound Mojo Vibe
A smaller footprint of the Ultra Vibe, this unit is a slimmed-down version. While it doesn't have quite as many features, it stays true to the tone.
J Rockett Uni-Verb
A high-end Uni-Vibe clone with foot-switchable Vibrato/Chorus selection and added a spring reverb that can also be triggered via its own footswitch. An FX Loop allows inserting other pedals between the vibe and the verb, while the output has a dedicated knob and can push your amp. The Reverb has two simple knobs: Dwell, controlling the effect's length, and Reverb, setting the level.
Dawner Prince Viberator
An interestingly named Uni-Vibe evolution featuring stereo output, Vintage/Modern switch & Bright trimmer for amp matching, and the unique Shape knob that modifies the waveform that drives the internal light bulb.
Cornerstone Aquarium
An analog, high-end uni-vibe that runs at 18v like the original and uses the same rotating bulb technology, but has been updated to modern specs to ensure no volume loss or tonal change, and features a few upgrades: a fast and slow speed with inertia control, tone control, dual-mode parallel mix option, and increased output.
Fjord FREI Uni-Vibe
A simplified take on the Uni-Vibe that keeps the incandescent light bulb and photosensitive resistors. The large center knob controls time, while the smaller left and right knobs control two different depth ranges. The second footswitch engages the second depth control, so it can function as 2 presets. Also accepts expression control via the TRS jack.
McCaffrey Audio Run Rabbit Run
It emulates all of the classic sounds of the vintage Uni-Vibe TM pedal, adding a new and wide palette of sounds. CRAZY (doubles the rate of the modulation) footswitch to go between normal operations to ring mod/octave/synth features. THUMP (three-way switch) allows you to add low-end response when turning down the DEPTH knob.
Wrought Iron Effects Project 941 Modulator
A high-end, incandescent bulb-driven 4-stage phase shifting vibrato with parallel dry signal using 11 NOS Soviet silicon transistors. It has a Gain knob placed at the end of the signal, which can saturate the effected sound and a Heave switch that adds a low-frequency feedback path for a throb. The 2nd footswitch "Dive" adds another feedback path more focused in the mid-range, delivering over-the-top pulsating sounds.
Vntage Tone Vibe Of Dreams
A rather affordable, great-looking, streamlined uni-vibe clone from South America that, with four controls (Level, Depth, Rate and Voice), can deliver a wide range of juicy vibe tones.
Retroman UberVibe
What sets this pedal apart is the detail of filtering. It features 4 filter knobs to fine-tune the sound, a selectable buffer, envelope shaping and stereo output.
Electronic Orange Moon Vibe MKII
Classic quadruple photocell design with an innovative Symmetry control to shape the waveform.
---
• Best Treadle-Based Uni-Vibes
The original Uni-Vibe came with a separate pedal to control the modulation speed. Dunlop—likely inspired by their own Cry-Baby Wah—introduced a model called "Rotovibe" that embedded the entire effect in a treadle-based pedal. Others followed…
Dunlop Rotovibe
Embedding the treadle within the effect pedal designed to create the infamous rotating speaker effect.
Fulltone MDV-3
Running at 18v, this offering from Fulltone features a treadle for real-time effect manipulation.
Classic Amplification Vibe Baby
Boasting many components true to the original Uni-Vibe design, the Vibe Baby is a treadle-based effect that's very pedalboard friendly.
---
• Best Mid-Priced Compact Uni-Vibe ($150-$260)
Mid-priced effects are the most popular among pro and advanced players. They replace hard-to-find vintage or NOS components with newer ones, keeping a high design and quality control standard, without going too crazy in the "extra feature" department.
Designed to work seamlessly with guitar, bass, and keyboard and to play well with any type of pickup, The Depths is a pedal that seems to get universally good reviews.
Sportings an actual optical vibe circuit in a compact case, its circuit provides ways to recreate a Uni-Vibe effect very close to the original or to improve its tone to complement your instrument or sonic needs. The circuit can also be powered at 9v or 18v for those guitarists who like extra headroom, although at 18v the effect sounds slightly different.
The controls include the usual Intensity, Rate, and Level, but also a 'Voice' knob which lets you choose the midrange frequency's focus, and a 'Throb' one, which blends in a sub-harmonic low-end frequency to the modulation to emphasize the low-end pulse.
V2 adds an updated flexi switch delivering either momentary or latching operation, but still doesn't address Tap Tempo and Expression In functionality, something provided by other pedals in the list below.
Pros: Rather affordable; great sounding; the Voice and Throb controls provide flexibility without complications. Cons: No tap tempo or Expression In functionality.
—
Here's a list of other valid options in this category:
JHS Pedals Unicorn V2
Classic sounds with modern control. What really sets the Unicorn apart from the herd is tap tempo functionality and a speed knob for dialing in precise rhythms. A Tap/Exp in lets you plug in a TRS expression pedal or any momentary tap control. Although it's the best-selling pedal on this list, many users report that it gives them clipping problems when connected to other pedals.
Fulltone Mini Deja-Vibe
A popular, 18-volt, re-engineered, smaller version of the original, now out of production Deja-Vibe, which started the Uni-Vibe clone trend. Mini-toggle switches between the original Uni-Vibe warmth and the "Modern" option (louder, brighter). Also available in Stereo.
Eastwood BB-03 Blue Vibe
A simple 3-knob take on Jimi Hendrix's favorite modulation effect. Vbe mode has its own sounds and flavor consisting in a subtle pitch modulation, while Chorus mode will activate the Color knob, which changes the phase relationship of the effected signal in relation to the dry one, which slightly modifies the tone's character depending on the setting.
Foxrox Aquavibe
All analog, classic circuitry, with an interesting "Center" control for altering the balance of the sweep. Standard expression pedal input.
Wilson Effects Haze
A simple stompbox clone with a vintage sound and multiple external controls. Standard expression pedal input.
Mojo Hand Villanova Vibe
A huge depth range allows access to a wide variety of modulation sounds. Tone knob tailors EQ to any rig. No input for expression pedal.
MG-Music Monovibe
A personal take on the Uni-Vibe from Brazil that does a great job at recreating Jimi Hendrix's sound (high depth, low rate) in Chorus mode and Ray Vaughan (at high rate).
---
• Best Affordable Compact Uni-Vibe (Between $110 and $150)
Hey let's be clear: cheaper doesn't mean worse. If you find what you need in a more affordable pedal, and it sounds good through your gear (and your ear!), everyone wins. Here's the selection of more affordable Uni-Vibe emulations. These are mostly not hand-built units, and few feature an expression pedal input.
A bread-and-butter but great-sounding 3-knob stompbox with chorus/vibrato switch in a compact case from the company that now owns the Uni-Vibe trademark.
It delivers the classic pitch-modulated sound of a vintage Uni-Vibe unit with or without the dry signal mixed in (in the latter case producing a chorus effect. Controls allow setting the modulation Speed and Depth, while the Level knob is useful in matching the wet sound volume to the dry one.
The Dunlop JHM3, with Jimi Hendrix's Picture on it, is a 70th-anniversary limited edition with the same circuit. No expression pedal input or Tap Tempo.
Pros: Great price/quality ratio, does a good job without breaking the bank. Cons: Played by itself, there are noticeable differences with a vintage unit; it lacked Tap Tempo and Exporession in.
Digitech Ventura Vibe
A vibe that can conjure tones past and present, it features stacked tone and drive knobs, adding versatility. A toggle switch allows for 3 effect varieties with independent controls. It has expression pedal input.
Electro-Harmonix Good Vibes
While not a full replication of the 1960s classic, the Good Vibes does sport some of the same distinct features – like utilizing photocells to achieve modulation. An added feature is increased headroom, so this pedal can fit right into virtually any rig. Optional expression pedal (assignable to Speed or Intensity) adds even more control.
Voodoo Lab Micro Vibe
An older, larger, no frills unit that's still popular for its sound, it sports some of the same design features as the original Uni-Vibe, like the sinewave oscillator, bulb, and photocells. No expression pedal input.
TC Electronic Viscous Vibe
A stereo, digital recreation of the famous analog original, this one is a little darker than many of the others. Tone Print enabled, but no expression control.
BBE Soulvibe
A simple 2 knob pedal, perfect for funky 70's sounds, no expression input.
---
• Best Uni-Vibe Under $110
There's beauty in great deals (and mini-pedals…). Check out these super affordable Uni-Vibe inspired pedals, you may find something that works for you. Most if not all of these are digital pedals and none of these feature an expression pedal input.
This is a DSP-based stereo redesign of the Dunlop Uni-Vibe in a mini enclosure featuring both Vibe and Chorus modes and the three classic controls for Speed, Volume and Intensity. A smart footswitch does both on/off duties and Tap Tempo. In chorus mode the intensity will change the depth of the sweeping effect while in Vibrato mode it will affect the amount of pitch modulation.
Quite incredibly, the manufacturer was able to back a full stereo path inside a mini case (we believe the line of pedals the Voodoo Vibe belongs to is the first one to accomplish this feat): if you connect it using TRS cables you'll get stereo In/Out!
A USB port is available for firmware updates.
Pros: Stereo path in a mini case! Tap Tempo. Cons: Digital, no expression out.
—
Here's a selection of other affordable Uni-Vibe clones that will do the job.
NUX Monterey Vibe
A DSP-based, straightforward mini Uni-Vibe recreation with controls for speed, volume and intensity. Among the mini pedals, it's the one with the best reviews on Amazon.
Mooer Soul Shiver
A simple dual function Uni-Vibe/Rotary emulation in a mini case. In Rotary mode it delivers shimmering Leslie-like tones.
Moen Shaky Jimi
Incredible value at less than $50 for this pedal that has quite a lot of fans.
Hot Box Pedals HB-VB5
A surprisingly fine sounding chorus, vibrato, and vibe effect pedal.
Hotone Roto
Tiny enclosure with all the controls you need, including chorus/vibe switch.
Kokko FUV2 Mini Pedal Vibe
Rather generic mini-pedal from an obscure Chinese manufacturer – super affordable though!
---
• Fuzz'n' Vibes
The Uni-Vibe sound has surged to popularity because of Jimi Hendrix, and the psychedelic guitarist used it almost exclusively combined with a fuzz. Some manufacturers thought it made sense to provide a pedal featuring both effects, in order to deliver optimized integration between them. Here they are:
Keeley Monterey
A combo vibe/fuzz designed to conjure the lush sounds of classic rock. It also features auto-wah, and octave up AND down.
Carl Martin Purple Moon
An all-analog, dual speed Vibe with Fuzz.
DVK Goldtop
Now out of production, this Fuzz'n'Vibe features a toggle switch that lets you change the stacking order of these effects. The fuzz is loosely based on a 'Big M' type.
Make Sounds Loudly Pedals – Jimi Fuzz Face/UniVibe
Instant Jimi. A combined silicon Fuzz Face and UniVibe.
---
• Stereo Uni-Vibes
What's better than a great vibe tone, you ask? Two channels of it, in stereo!
---
• Vintage and Out Of Production
Some gem can be found in the used market among the defunct Vibes… 
---
P.S. You can find other shopping guides to specific effects here.
Did we forget something or posted incorrect information? Please post a comment and we'll look into it!
---
Vibe Clones Shootout Videos
Vibe Shootout! Voodoo Lab, Sweet Sound, Fulltone
Lovetone Doppel Ganger, Fulltone Deja Vibe, Voodoo Labs Micro Vibe and Roger Mayer Voodoo Vibe
5 Vibe Shootout: TC, Danelectro, Nux, Horrothia and Berry
Fulltone Deja Vibe x Mg Monovibe
Dunlop Uni-Vibe vs. Danelectro Chicken Salad
Mojo Vibe – Deja Vibe – Deja 2
Uni-Vibe shootout : Dunlop Uni-Vibe vs. Danelectro Cool Cat Vibe
Uni-Vibe vs Deja Vibe 2 shootout #1 – Uni-Vibe vs Deja Vibe 2 shootout #2
—
Here's a cool video about the Uni-Vibe pedal by JHS with some tech details about the effect!