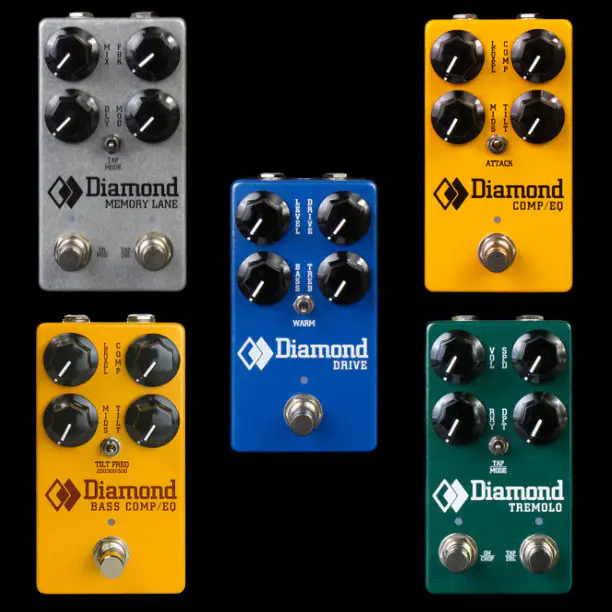 At the end of 2022 we announced that Montreal's SolidGoldFX bought legendary Ontario pedal innovators Diamond Pedals, and today we can see the first fruit of this acquisition with the release of five pedals in a new compact line – four for guitar (delay, tremolo, drive, and compressor) and a compressor for bass.
All the pedals feature circuits that update classic Diamond designs with modern components and features, including smaller enclosure and soft-touch true bypass. The analog ones (all of them but the Memory Lane), work internally at 18v for extra headroom.
The videos below tackle the entire line, which can be purchased on Reverb.com or Thomann.
Diamond Pedals' Compact Line, Builder's Notes
A staple on any professional board, the new range of Diamond pedals are built on the foundations of utility, quality, and tone. Meet the new line-up.

Introducing the next generation of Diamond Pedals! The Comp/EQ, Drive, Tremolo and Memory Lane all have classic Diamond DNA in their solder joints and are proudly made in Canada and housed in a smaller enclosure with soft-touch true bypass, high quality components and the analog circuits can accept up to 18v for increased headroom.

Drenched in classic Diamond DNA, the next-gen Diamond Drive is built on a foundation of signature drive and EQ soundblocks. Distilling the most desirable and functional elements of the original J-Drive, Blaze and Fireburst pedals, the Diamond Drive combines a warm and wide-ranging overdrive built around a Premium Sound Burr-Brown Op-amp with a dual band, post-gain active EQ.

There are few compressors that are more sought after than our yellow box Diamond. This next-gen compressor maintains the classic circuit architecture while increasing range and functionality. The new EQ section allows you to sculpt your tone in the same box that squashes it (that's a good thing). Furthermore, the attack switch allows you to go from the signature ultra-snappy Diamond comp style all the way to softer transparent compression.

Blending analog companding, anti-aliasing|reconstruction filters with a bucket brigade style delay line, we have immaculately captured the ethereal essence of the original big-box Memory Lane using Diamond's innovative digital Bucket Brigade Delay technology (dBBD). Basically what we're saying is, you get all the goodness of the original Memory Lane in a smaller footprint, over double the delay time, extended frequency response, higher SNR, and at a fraction of the current draw.

Tremolo has been a staple effect since the 60's. Now it's time to welcome it to the 21st century. Don't let your preconceptions fool you, this is not your average trem. Combining 3 distinct trem flavours into one pedal, the new Diamond Tremolo takes what it means to be a tremolo and pushes it well beyond the limits. At its core, the Diamond Tremolo offers classic amp style, optical amplitude modulation with sine, shark fin and square waveforms. Further enhancing the pedal, a modern FET chopper delivers a sharp edge, completely killed, tremolo effect and a new Dicer mode allows you to arm the pedal and use it as a momentary kill switch. Include the 11 rhythm control positions providing a number of different depth, mode and tempo accents and the updated Diamond Tremolo will be your go-to tone warping machine.

There's something truly magical about finding the compression sweet-spot on bass. Enter the Diamond Bass COMP/EQ. This bad-boy will go on your board, and never come off. This next-gen compressor maintains the classic circuit architecture while increasing range and functionality. Now armed with 3 Tilt frequencies and a +/- 10dB Mid control, the new EQ section allows you to sculpt your tone in the same box that master's it (that's a good thing).