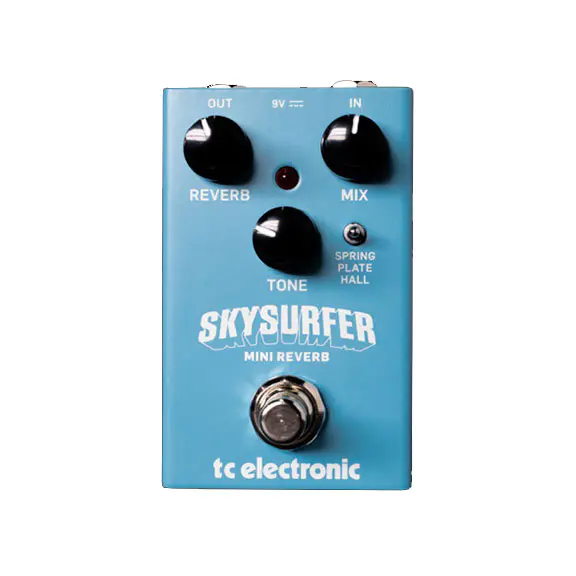 TC Electronic released Skysurfer Mini Reverb, the first pedal of a new series of mini-stompboxes featuring a wider footprint than the Mooer-style pedals we've become accustomed to.
Other than the size, this pedal is exactly the same as the regular Skysurfer, offering three bread and butter reverb modes (Spring, Plate and Hall), and its price level, expected to be around $50, makes it an interesting entry-level device for reverb-seekers.
The TC Electronic SKYSURFER MINI REVERB brings you a premium – yet affordable, reverb solution armed with 3 studio-grade algorithms created by TC Electronic and housed in a compact, rugged metal box. Skim effortlessly across a deep-blue, churning ocean; swim in a cavernous grotto; or soar through the ambient spray of the surf.

SKYSURFER MINI REVERB offers 3 "bread and butter" reverb flavours via its on-board mode switch. SPRING recreates all of the drip and splash of an oldskool reverb tank like you will find in a vintage tube amp. PLATE enables you to mimic classic studio reverbs and HALL covers a full range of tones from earthy and organic to full-on interstellar spaceflight.

Unlike many of our competitors' budget-friendly reverb pedals that often disrespect your tone, SKYSURFER MINI REVERB is the perfect beach buddy. Designed around superb studio-grade algorithms, SKYSURFER MINI REVERB provides all the lush, transparent reverb sounds you could ever dream of – without compromising your original tone. The onboard TONE knob let's you tailor the sound of your reverbs decay to embellish and compliment whatever you're putting through this powerful little pedal.