Updated Mar. 28, 2018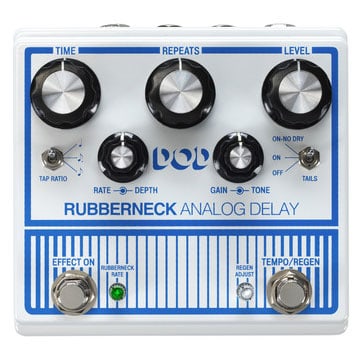 The DOD Rubberneck delay is one of the most intriguing pedals released by DOD in a while, and it could represent the beginning of a new course for this pioneering brand that's been known for rather streamlined stompboxes.
The Rubberneck, streamlined is not: based on four Bucket Brigade chips, it's an analog delay with tap tempo, deep tweakability of delay and modulation, and unorthodox footswitch functions (customizable momentary control of oscillation and momentary control of the pitch sweep – check out the second video below around 1:20 for a quick intro).
The fact that it caught the attention of videographer extraordinaire Knobs (who is very picky in choosing what to shoot) is extra proof that the Rubberneck is a creative tool worth checking out.
We added this pedal to our list of Best Analog Delays.
Here's Knobs' video:
—
0:31 – Overview
1:47 – Repeats
2:42 – Control sweep
4:41 – Effects insert
5:42 – Synth
6:27 – Outro
Guitar – Danelectro Dead on '67
Amp – Fender Blues Jr
Synth – Korg Minilogue
Additional effects:
Dr. Scientist – BitQuest!
Digitech Freqout
Fairfield Unpleasant Surprise
Cooper Outward
Here's the video we shot at NAMM 2018 of it:
And here's the two-part demo of the Rubberneck by Pro Guitar Shop.
The new DOD Rubberneck Analog Delay has double the features with the cool new double-wide chassis. The Rubberneck boasts over a second of warm and musical 100% analog repeats you crave, along with tap-tempo, subdivisions, and tails. Double concentric knobs give you independent control of the Modulation Rate and Depth as well as Gain and Tone of the delay.

Double footswitches allow for unique extended features like user customizable momentary control of oscillation and momentary control of the dizzying pitch sweep of "Rubbernecking." These extended features are controlled by individual clear mini knobs that double as multi-color LED status indicators. Feedback loop send/return, remote footswitch control, true bypass, and rugged metal construction, make the Rubberneck Analog Delay the must have delay of the year.

The Rubberneck also has jacks to allow FS3X 3-button remote foot switching, and a send and return so you can add external effects to the delay path.

Features

Up to 1.5 Seconds of Analog Delay
Tap Tempo with 3 Tap Ratio selections
Rubbernecking allows 'rubber band' stretched delay performance
Modulation Speed and Depth controls
Delay Gain and Tone controls
Regen footswitch provides performance control of repeats
Loop Send/Return inserts effects into delay feedback path
Delay Tails and Dry Signal defeat options
Remote footswitch input for added performance control
True Bypass

– read more here.