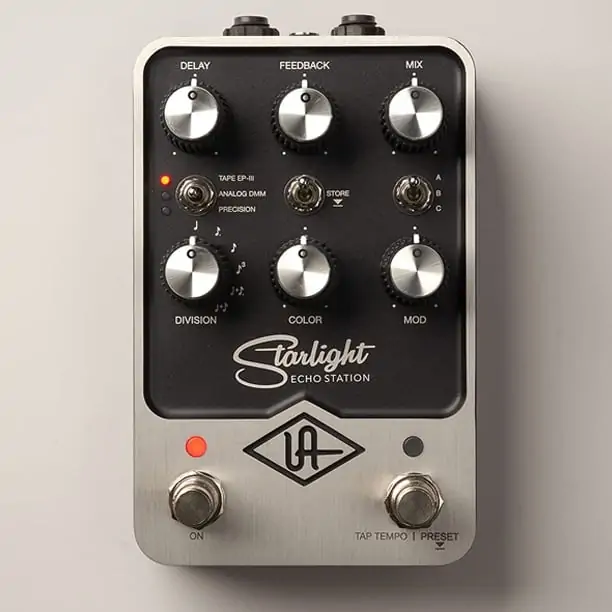 The Universal Audio UAFX Starlight Echo Station belongs to the series of the first three guitar pedals ever released by the US company, a dominant force in the pro audio peripherals but also in the DSP-powered plugins market. That kind of expertise must have come in handy when working on stompboxes that simulate classic analog effects.
The Starlight is a Tap-Tempo enabled, Stereo, digital, 3-mode (plus 1) delay/echo pedal with 3 variations for each mode. It also offers preset capability, and features six knobs controlling Delay, Mix, Feedback, Subdivision, Color, and Modulation.
Here's the list of modes:
Tape EP-III: Voiced after three tape echos from the '60s, with settings for tape age and preamp color
Analog DMM: Simulates the classic, gritty analog "bucket brigade" delay with enveloping modulation modes and subdivisions
Precision: Offers three crystal-clear digital delays with endless trails and optional modulation, derived from the UAD plug-in library
Bonus Effect: A free Cooper Time Cube delay, downloadable at registration
The pedal seems to have just one input and one output but can be configured in stereo/dual mono operation – we assume – through a single stereo out.
You can order the UAFX Starlight at no extra cost through our affiliate Sweetwataer link. Check out the first videos of it!
Grace
Universal Audio UAFX Starlight Echo Station

Engineered and developed by the acclaimed team at UA, the Universal Audio UAFX Starlight Echo Station boasts powerful dual-processor architecture for the most sonically authentic Tape, Analog, and Digital delays ever produced by a stompbox.

From timeless tape echo and bucket brigade analog delays, to endless, pristine digital repeats from the 1980s, Starlight Echo Station packs three iconic delay sounds into a beautifully-crafted effects pedal that's built to last decades.

Legendary Delay Effects Through the Decades:

Tape EP-III: Three unique 1960s tape echo machines, with settings for tape age and preamp color
Analog DMM: Vintage analog "bucket brigade" delay textures with enveloping modulation modes and subdivisions
Precision: Pristine digital delays with endless delay trails and optional modulation, derived from the UAD plug-in library
Bonus Effect: Free Cooper Time Cube delay, downloadable at registration

FEATURES:

Flagship delay pedal with powerful dual-processor UAFX engine
Three legendary delay effects, with available tap tempo, subdivisions, and more
Optional preamp coloration (Tape EP-III, Analog DMM)
Simple Live+Tap/Preset modes for instant recall of your favorite sound
Additional downloadable effects by the world-renowned UAD algorithm team
True or buffered bypass, spillover/tails, silent switching
Analog dry through, stereo/dual mono operation
Classic UA analog design and craftsmanship, built to last decades