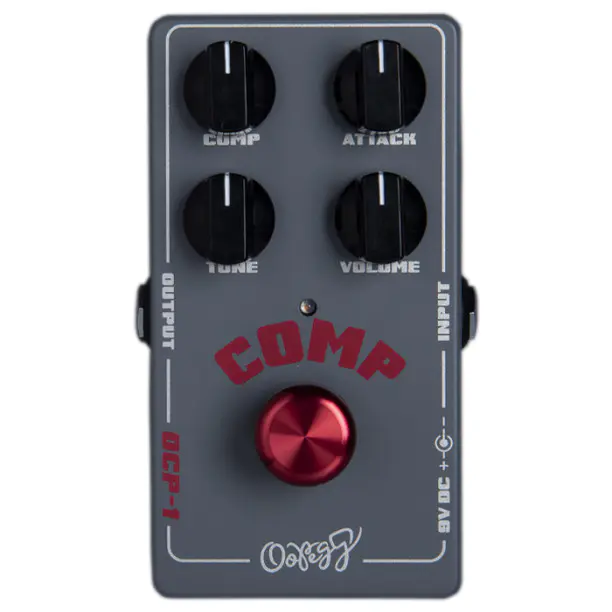 High-end Japanese guitar maker Oopegg just unveiled a line of pedals called Super Retro Series comprised of three products: a compressor, a reverb, and a fuzz. In this post, we'll focus on the Oopegg Compressor OCP-1.
Hand-made in Japan, this is an analog compressor pedal that features a circuit inspired by early tube electro-optical units. '
Notwithstanding its simple look, the OCP-1 is not an affordable pedal (it sells for around $245 in the US), due to its high-end components and hand construction.
The four knobs (Compression, Attack, Volume, and Tone, which is unusual in a compressor) open up a wide range of tonal options, from subtly increasing the dynamic consistency of your performance to full-on squeeze.
Hear it in action in the video below.
Oopegg Compressor OCP-1, Builder's Notes
OOPEGG handmade analog pedal inspired by earlier all tube electro-optical compressor. OCP-1 has four-simple control knobs. Each knob has wide-range control and it's perfect for creating various kinds of popular style music in recording and live performance. Brand / Model: OOPEGG Super Retro Compressor / OCP-1
Effect: Compressor Input Terminal: 1/4Inch Phone IN.OUT Input Level: +3dBu Input Impedance: 1M? Output Impedance: 100K? True Bypass Power: DC9V 2.1mm Center Pin Negative or 9V Battery(006P) Power Consumption: Max 7mAh Size:?Body?65(W) x 122(D) x 40(H) in mm Net Weight: 280(g) Accessory: OOPEGG TOP HAT mini / Red x 1