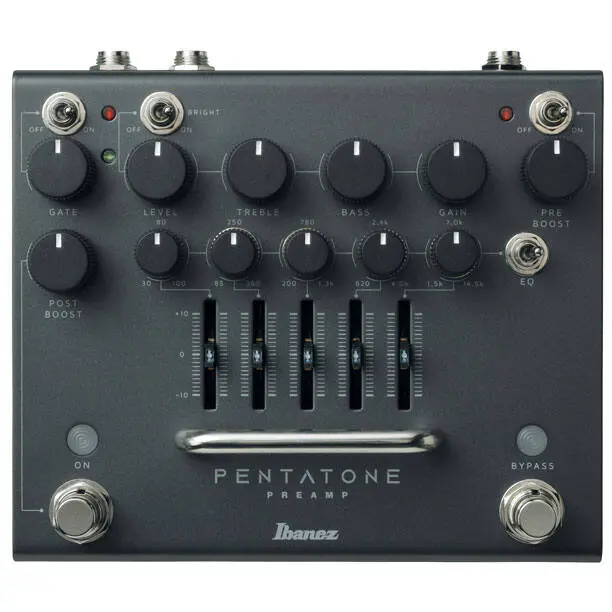 The Ibanez Pentatone is a new, analog Preamp and EQ pedal by an electric guitar builder that, notwithstanding having manufactured the most popular stompbox of all times, hasn't been particularly active in the pedal realm in the last few years.
The Pentatone is an entirely new product in the Japanese company's pedal roster, which comprised, until yesterday, relatively straightforward effect pedals. In a few words, it's a tone-creation device packed with gain stages and sculpting options.
Let's look at what kind of ride your signal is sent through:
> Pre Boost: the first thing your tone will meet is a switchable Pre-Boost, which let's you set the amount of signal sent into the pedal.
> Gain: this sets the amount of distortion applied to your signal. Needless to say, adding more volume at the Pre-Boost stage can make things even more distorted. The distortion can go from light overdrive to rather extreme high-gain sounds.
> 2-knob EQ: this is a first EQ section that lets you sculpt your tone through two rather wide EQ curves.
> Level control + Switchable Bright Switch: It lets you tweak the volume coming out of the distortion stage and add some extra top end through the toggle switch.
> 5-Band Para/Graphic EQ: This is the true ace in the pocket of this device: a 5 band graphic EQ section with selectable frequency for precise and detailed tone-sculpting.
> Switchable Noise Gate: it keeps your signal clean at high gain settings.
> Footswitchable Post-Boost with db Control: that's what the 2nd footswitch does: it activates and extra boost to take your volume to the next level during solos or big choruses.
Also, an external footswitch can be connected to trigger the pre-boost and 5-band EQ section.
Have a listen to it in the video below.