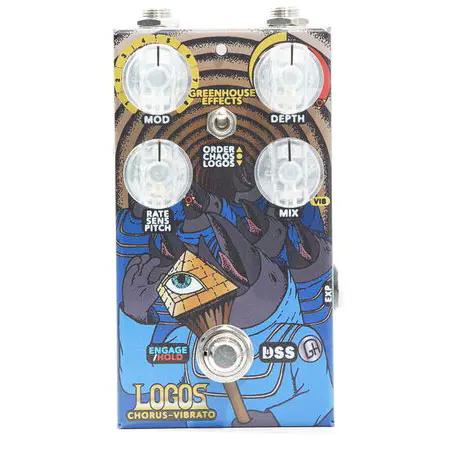 You'll be hard-pressed to find a company as imaginative than Roy Zichri's Greenhouse Effects.
In the early aughts, the Israeli pedal engineer first built a reputation as a PCB designer, collaborating with companies such as JHS Pedals and Darkglass Electronics. When the time felt right in 2010 he then started his own stompbox venture.
With its beautiful graphics and creative design bordering on quirky, his new pedal Logos follows in the steps of previous releases.
This is a Chorus/Vibrato inspired by Greek philosophical concepts ("Logos" in Greek means the "thought that organizes chaos") with three modes and 8 sub-modes for each mode that allow for a wide (and wild) palette of sounds. It also features one mode-dependent knob out of four.
The footswitch, when held, will create momentary effects also depending on the mode selected.
Order Mode delivers the classic chorus with up to 8 cascading voices, from normal to extreme depth, with the fourth knob controlling the rate. Holding the footswitch will add noise.
Chaos Mode generates 8 chaotic modes of pitch modulation, envelope LFO, waveforms, and double voice. The fourth knob here controls the Sensitivity of the envelope. Holding the footswitch will turn the depth setting to the maximum setting.
Logos Mode offers 8 combinations of modulated intervals, octave up/down, 5th intervals, delivering flanger-like modulation at lower settings, and reverb for an angelic organ-like chorus on top of your dry signal. The fourth knob controls the pitch, while the momentary footswitch will add Noise.
Have fun with this first video of the Greenhouse Effects Logos. We added it to our article about the Best Chorus Pedals.
Play on the edge between Order and Chaos.

Inspired by the philosophical concept, the LOGOS was designed to let you have many classic chorus/vibrato sounds and also introduce chaos into your playing at the time and intensity you desire.

Pitch shifting, multiple voices, LFO, feedback, envelope detection, waveforms, distortion and even reverb are blended together and rearranged to make 48 different combinations of new sounds. A new interface has been designed to let you navigate through all the possibilities, including multi-purpose controls, hidden features, expression pedal input and the new DSS (Dual Switching System) for instant Chaos at will.

Order Mode: Classic chorus with up to 8 cascading voices, normal to extreme depth, DSS: Noise. Hidden feature: Automated rate.

Chaos Mode: 8 chaotic modes of pitch modulation, envelope LFO, waveforms and double voice. DSS: Max Depth

Logos Mode: 8 combinations of modulated intervals, octave up/down, 5th intervals, flanger-like modulation at lower settings, and reverb for an angelic organ-like chorus on top of your dry signal. DSS: Noise. Hidden feature: LFO off