Posted by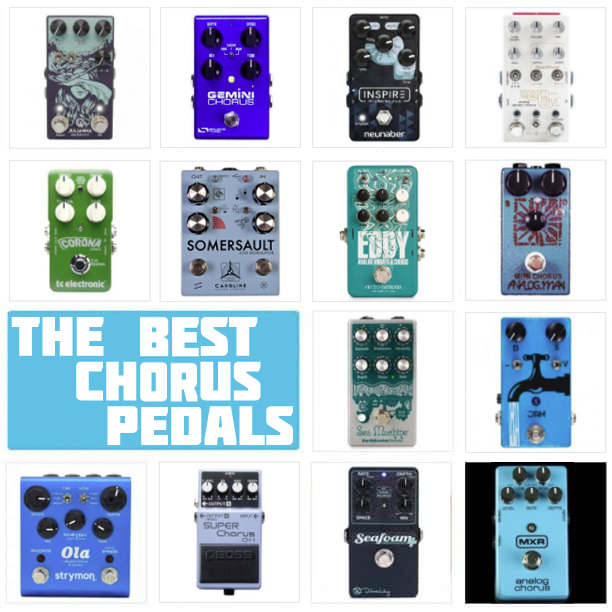 A Guide to the Best Chorus Pedals Organized By Type
Updated on 11.19.2020. See also our article on the Best Multi Modulation Pedals.
Originally created as an attempt to simulate a sonic effect audible when similar sounds with almost identical pitches are played at once (like voices in a choir), the chorus has slowly taken a little bit of a life of its own, morphing into a "character" effect that adds a liquid quality to any sound, and that's particularly effective in "opening up" mono sounds in stereo.
Because of this, the chorus has become ubiquitous in synths, and very popular among electric bass and guitar players.
Those in need of sonic examples will find very familiar ones in the bass intro of this famous Nirvana song, or the clean guitar in this other one by The Police.
The difference between Chorus and Vibrato
Many chorus pedals also offer a "Vibrato" mode. That is not really the focus of this article, but it is useful to highlight the differences between the two effects: in the Chorus effect, a slight variation of pitch happens together with a slight variation of time (a minimal, varying delay plied to two or more version of the original tone), while in Vibrato there is only a variation of pitch, exactly like int the vocal vibrato technique.
Finding the Best Chorus Pedals for Your Needs
Chorus is one of the most popular pedals for guitar and bass, and because of this, there is a variety of options to choose from.  The goal of this article is to help each one of our readers find the category of reverb pedal that's best for him or her.
So, what kind of chorus pedal do you need within your budget and board requirement? Click on the category in the list below that answers this question and you'll jump to our recommended pedals. But remember: no matter the features, a good chorus pedal is the one that sounds pleasing to your ears, so make sure to check out the videos of the ones you like, before you pull the shopping trigger.
•  Compact Stereo Chorus Pedals
•  Larger Footprint Stereo Chorus Pedals
•  Affordable Mono Chorus Pedals Under $150
•  Boutique Mono Chorus Pedals (above $150)
•  Basic Mini Chorus Pedals
•  Multi-Mode Modulation Pedals
The lists in this article are based on the ratings of each pedal from various online music stores
Best Stereo Chorus Pedals with Compact Case
True, most guitarists play with just one amp, but a stereo chorus pedal opens up sonic and also routing options that might be useful in a studio environment or to get your creative juice flowing. The pedals in this list give you a stereo output within the classic compact footprint.
TOP 3:
Boss Chorus Ensemble
More flexible than the CE-2W, this pedal is inspired by the tones popular in the '80s and lets you dial in a variety of chorus sounds with level, rate, depth, and concentric high and low-pass filter controls. It has mono input and stereo outputs and is built like a tank.
Boss Chorus CE-2W
Decades ago, the BOSS' CE-1 and CE-2 set the bar for thick, luscious chorusing and this pedal from the Japanese company's Waza Craft line includes tones emulating both hose now discontinued models. It runs on analog bucket-brigade circuitry with rate and depth controls and mono or stereo input/output.
Walrus Audio Julianna
An expanded and Stereo version of their popular, lush-sounding Julia chorus. Adds also Tap Tempo with 3 Subdivision, a momentary function (Speed Ramp Up/Down), Modulation Drift effect (Automatically speeds up and slows down the LFO rate) and the ability to control Depth, Rate, or both with an expression pedal.
Here's the full list:
Best Stereo Chorus Pedals with Larger Footprint
A larger footprint, in most cases, means more room for knobs and switches, and in other, more space for quality components. The pedals in this list will cost you a little more, but, in all likelihood, open up more creative options keeping you entertained and inspired for longer.
TOP 3:
Strymon Ola
A Stereo in/out digital pedal based on a chip recreating the classic BDD chip that offers six modulation and dynamic Chorus and Vibrato modes, including a ramp effect triggered via momentary footswitch.
Fender Bubbler
A stereo chorus pedal with a fully analog circuit. It features Slow and Fast speeds with independent Rate and Depth controls. A toggle switches between Sine and Triangular waveform. The Sensitivity control allows modulation rate changes based on your playing dynamics.
MXR Stereo Chorus
Fully analog, this is a reissue of what was one of the first mass-produced stereo chorus pedals. Unique to this design is the EQ section with knobs for Bass and Treble and also a useful Low Pass Filter button.
Here's the full list:
Best Boutique Mono Chorus Pedals (Above $150)
Mostly hand-built and featuring quality components, these are solid, boutique mono choruses that marry great tone with the out-of-the-box angle typical of boutique pedal builders.
TOP 3:
Walrus Audio Julia V2
Version 2 of this popular analog Chorus/Vibrato adds top-mounted jacks, soft switch bypassing and updated art. The Lag knob lets you set the center delay time from which the LFO starts its modulation cycle.
EarthQuaker Devices Sea Machine V3
Based on a hybrid digital-analog circuit, it delivers a variety of effects from subtle, shimmery chorus to warbly, pitch-bent modulation. The six knobs, featuring abstract names like Animation, Dimension, and Shape allow for wider than average tone possibilities. It can even do slapback and shimmer sounds.
Chase Bliss Audio Warped Vinyl HiFi
It emulates the effect of a warped vinyl record, but also delivers shimmery vibrato and chorus effects. Hold feature allows for on-the-fly control of ramping and LFO. Beyond that, it offers multiple trailblazing ways to shape your sound – including 16 DIP switches that all offer something different.
Here's the full list:
Best Mono Chorus Pedals Under $150 (Compact Case)
In this list, you'll find your bread and butter compact mono chorus pedals: affordable yet sturdy devices that give you the classic chorus sound and, in some cases, some coloring knobs or switches.
TOP 3:
MXR Analog Chorus
An all-analog design that runs on the sought-after warm tones generated by the bucket brigade circuit. There are rate, depth, and level controls as well as a two-band EQ over lows and highs. It's mono only but has a dry output.
Electro-Harmonix Neo Clone
It offers the same sounds as the Small Clone at a fraction of the footprint. The control set is unique, with just a rate pot and a depth switch. It's all analog, has true bypass, and provides the milky tones that made the Small Clone popular.
JHS 3 Series Chorus
It offers classic chorus and vibrato modulation sounds, with straightforward controls and enough versatility. Delivers from subtle doubling to utterly seasick waves. The Vibe toggle removes the dry signal so that you will have a simple true pitch vibrato.
Here's the full list:
Best Chorus Pedals in Mini Format
For the players that are happy with a basic chorus and don't have much space on their boards, the mini pedal format is the way to go. Most pedals in this list aren't exactly built with top-notch components,  but there are exceptions (just look at the price) that normally deliver a lusher sound.
TOP 3:
Rowin Chorus
An extremely popular and affordable three-knob mini-chorus that covers your basics and gets close to 4.5 stars on Amazon..
Donner Tutti Love
A simple 100% analog, true-bypass circuit that provides warm chorusing. Dial it in with level, depth, and rate controls. Not groundbreaking, but gives you access to a variety of classic chorus sounds.
Mooer Ensemble King
A simple, compact mini chorus with minimal control set over rate, depth, and level. The fully analog circuitry provides warm chorusing with plenty of shimmer. The all-metal enclosure means it can survive life on the stage.
Here's the full list:
---
Chorus Pedal Shootout Videos
• Boss, JAM, MXR, EHX, Keeley, Mad Professor, Walrus Audio
•  Chase Bliss Warped Vinyl mkii, Boss CE-2, Mr. Black Mini Chorus, Boss CE-5, Boss DC-2w, TC 3rd Dimension, Caroline Somersault, EQD Sea Machine v3, EHX Small Clone, TC June 60, and the Zvex Instant Lo-Fi Junky
•  TC Electronic Corona vs Source Audio Gemini vs Boss CE-2w vs Strymon Ola
---
If you found this article useful, please rate it!






(5 votes, average: 5.00 out of 5)


Loading...
---