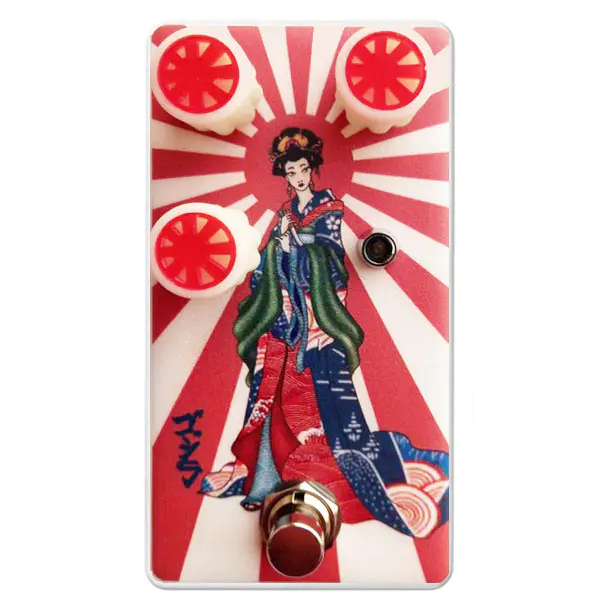 Hand-built in the UK, the Gojira FX Tanto is an aggressive yet versatile overdrive and distortion pedal offering a full spectrum of tones from overdrive to distortion to borderline fuzz.
Notwithstanding the bright, Japan culture-inspired illustration, this is a pedal created with Doom and Metal players in mind.
The unlabeled knobs deal with Output (top left), Gain (top right) and Tone (bottom left) – it has a lot of volume on tap both on the gain and output stages.
Check out the video below, this pedal sounds remarkable.
Gojira FX Tanto, Builder's Notes
• Versatile Overdrive and distortion that is very responsive to attack intensity and guitar volume, cleans up similar to a fuzz face.

• Massive gain range from light break-up to full on heavy distortion

• Tone control offers loads of low end and highs.

• Housed in a U.V printed Gorva C65 enclosure

• Gorva soft touch footswitch

• Custom "Rising sun" 3d printed knobs.

• Artwork designed by Tattoo artist Kage Bona

• Top Jacks- Jacks and DC are at the top of the enclosure

• True bypass

• 9v DC centre negative power