Posted by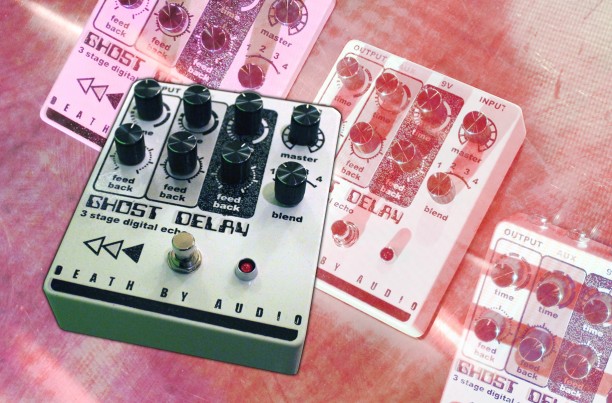 If you have "extreme" pretty much tattooed on your DNA, you are bound to come up with some pretty interesting ideas.  Brooklynite Oliver Ackman doesn't conceal his interest for sonic excess, both with his break out band A Place to Bury Strangers and with his Death By Audio stompboxes. The man's comfort zone is in a loud aural zone tucked between insane distortion and wickedly blurry atmospheres, and his latest pedal creation leans decidedly towards the latter.
The Ghost Delay cascades three echo circuits in succession, creating exactly what you would expect – a waterfall of sound. Conceived during a late night recording session, when a muse suggested to try and connect three Echo Dream pedals, the Ghost Delay can create three layers of anything of the following (and more): backwards sounds, triplet echoes, ghost trails, feedback insanity, straight up awesome delay, and multi-turning chorus sounds.
Each of the Ghost Delay's echo circuits have controls for time and feedback to forge a world of ghostly atmospheric and creepy sounds. A blend and master volume control gives you the ability to tame back the insanity or bring it forth with a wall of screaming dying ghosts.
Check out sound samples here.