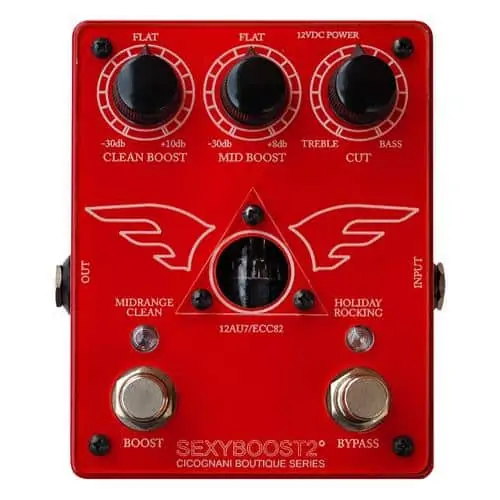 Cicognani, a new company recently founded by the designed behind Gurus Pedals – Andrea Cicognani – is an analog tube boost that delivers both a clean and a midrange boost, in a way that sounds good both before and after the preamp.
The two types of boosts can be alternated by pressing on the left footswitch and feature separate knobs that boost or cut up to 30db, giving guitarists a total of three volume presets to vary their dynamics while performing (for example, bypass ir in the verse, activate the clean boost in the chorus, mid boost during the solo).
A Cut knob allows for extra frequency fine-tuning.
Here's the first video of the Cicognani Sexyboost2.
SEXYBOOST2 is an analog tube boost that integrates two important functions: clean signal boost and midrange boost. These functions, in total sound transparency makes it possible to excel in its features both in "front-preamp" and "postpreamp" use, always being excellent in all two modes of use. The pedal uses quality materials and is equipped with two switches: The first is a classic stable true-bypass necessary to activate and deactivate; The second allows you to choose the type of "boost" between clean (transparent) and midrange increase.

We recommend using power supplies that guarantee a good starting current. The valve in the moment of preheating needs an adequate current peak. The power supply is well "low noise" and "stabilized" to ensure the best characteristics of the product.