Updated Jun. 29, 2020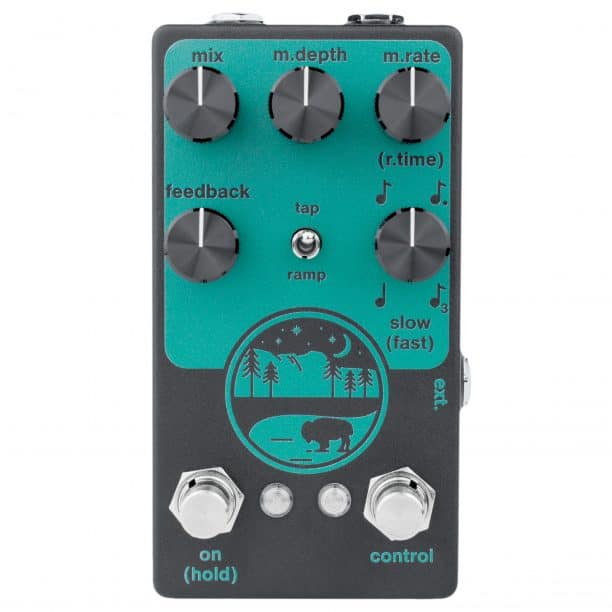 The Wilderness delay is the latest creation by Dayton, Ohio's NativeAudio, a company that house found its voice in offering sophisticated yet simple looking analog and digital pedals decorated with stilish graphics inspired by owner Mike Trombley's Blackfeet Native American ancestry.
The Wilderness offers 1,000ms of delay and two modulation modes: Tap and  Ramp.
Tap mode offers tap tempo functionality with four available subdivisions set using the control foot switch.
Ramp mode allows the user to set a slow and fast delay time, and accelerate between the two through the r.time (ramp time), creating a pitch-shifting effect.
To ramp between the two speeds, the user can operate the control footswitch in momentary mode.
The Wilderness, like other NativeAudio pedals, offers secondary parameters which are marked in parenthesis. To access them, the user holds the on (hold) switch and now has access to secondary parameter (i.e. to set the fast speed, hold the on/(hold) switch and turn the slow/(fast) knob).
Check out the videos of this pedal, below.
The Wilderness is an analog-voiced delay with up to 1000 milliseconds of delay time. The Wilderness offers feedback, mix, and modulation controls that are global to its two modes: tap and ramp. Tap mode offers tap tempo functionality with four available subdivisions. Ramp mode allows the user to set a slow and fast delay time, and accelerate between the two, creating a pitch-shifting effect.

Features:

Up to 1000 milliseconds of delay
Independent modulation controls
Tap delay with four subdivisions
Ramp delay that alternates between two delays
Buffered bypass with trails
All-analog dry signal path
Internal/external tap tempo and ramp control
Top-mounted jacks