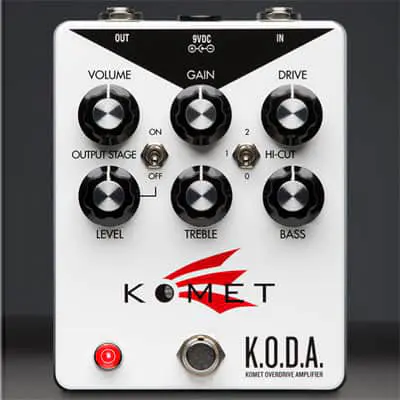 The Komet K.O.D.A. is a rather unique take on the overdrive/amp-in-a-box concept, featuring FOUR gain-related knobs and a two-way EQ section, where the hi-cutting Bass knob can be fine tuned through a 3-way toggle switch.
The most unique feature of this pedal is that it features a switchable power-amp output stage, which opens open a wide palette of tone possibilities.
Here's the video by EytschPi42:
Komet™ Amplification is proud to announce our very first pedal: the Komet OverDrive Amplifier, or K.O.D.A. — a massive sounding pedal with a stunning feature-set to boot. K.O.D.A. is a remarkably tunable pedal that offers an exceptionally amp-like overdrive structure with amazing gain-staging flexibility in 3 different circuit positions.

The K.O.D.A. is unique in the pedal world in that it represents a full-featured amp-in-a-box, consisting of a discrete preamp, active tone control section, and a unique switchable power-amp output stage. It can be operated with the output stage switched on or off, giving players very different tone and response characteristics — a new level of versatility not found in other "amp-like" pedals. A three position hi-cut switch allows users to fine tune K.O.D.A.'s treble content to their amplifier.