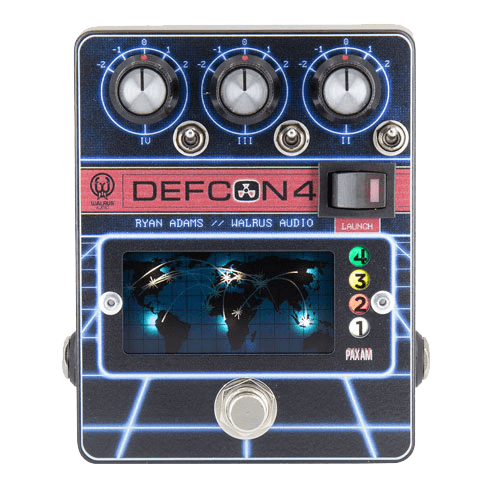 In July, we reported the spotting of a "USO" (Unidentified Stomping Object) that we soon learned was the fruit of a collaboration between Walrus Audio and Ryan Adams. Even if we object's name was revealed (DEFCON4) there weren't many details about what it did – (in that July post we tried to guess, but failed miserably).
For unknown reasons (maybe to avoid conflict with other pedal releases?) the Oklahoma City pedal builder chose Labor Day for the official launch of this new device, forcing pedal bloggers and videogreaphers to work on the last summer holiday – thanks guys!
So, we now have several videos about the DEFCON4 and also an official description:
DEFCON4 works as a preamp and EQ to meticulously craft your guitar's sound. Bring peace time to your tone and avoid tedious amp tweaking during a set by using the DEFCON4 to easily switch from single coil to humbucking instruments with a quick twist of the rotary knobs. When the Launch switch is engaged, go into DEFCON 1 and activate a searing boost for your guitar.
To be perfectly honest, the stompbox's clever apocalyptic imagery, obviously inspired by '80s movie War Games, made us think of something a little more out there than a utility pedal! But then again, this isn't any ole' utility pedal…
What it is: a series of tone choices made for you
The DEFCON4 originated by an idea Ryan Adams had in November 2017. From tone to knobs, the artist worked very closely with the manufacturer on exactly how he wanted it to look and sound.
 "I want this to look like someone from the 80s was pushing the technology they had available at the time." (Ryan Adams)
The effect features three EQ bands (IV for Low, III for mids and II for highs) and a 10db Mosfet boost (called Launch); each of these circuits can be engaged or bypassed through its own on/off switch.
The interesting thing about the DEFCON4 is that, although very versatile, it mostly lets you dial in a set of choices that were already made for you during its design: the knobs controlling the three EQ bands only feature five notches: -2, -1, 0, +1, +2, (no in-between options) and the boost can only be on or off – there's no gain control for it, it's fixed at 10db.
Although some can see it as limiting, this "less is more" approach is ideal for dialing in a variety of useful tones from clean to stringy to crunchy without the unavoidable second-guessing we all face when given too many options.
Mid EQ is where freedom is
However, the DEFCON4 gives the player some level of freedom in the mid EQ section (aka "III"): three under-the-hood trim pots allow fine tuning of its frequency (from 300Hz to 3kHz) and Q Bell (from 0.3 to 2.5), making it a fully parametric EQ. The pedal comes with Ryan Adam's favorite settings, i.e. a rather large Q bell and frequency set just under 1kHz.
—
We had a couple of questions about this pedal, so we contacted Colt at Walrus Audio, who promptly replied on Labor Day!
Why do you have a switch on/off button for each of the three EQs, since there's also a "zero" notch that bypasses them? 
"Good question – Ryan wanted to be able to save the position on the dial, and flip it on when he needed for quick access to that tone."
I guess the "Launch" switch cannot be easily triggered with the foot, right? Was there any specific reason NOT to make that a footswitch?
"No reason in particular. Just wanted one foot switch to mess with."
From the mind of Ryan Adams comes a new guitar utility with more tricks up its sleeve than a 1980s supervillain. The DEFCON4 works as a preamp and EQ to meticulously craft your guitar's sound. Bring peace time to your tone and avoid tedious amp tweaking during a set by using the DEFCON4 to easily switch from single coil to humbucking instruments with a quick twist of the rotary knobs. When the Launch switch is engaged, go into DEFCON 1 and activate a searing boost for your guitar.

Use the Low (IV), Mid (III) and High Band (II) rotary knobs to cut and boost frequencies of your signal. The toggle switches will activate or bypass each frequency. When activated, the corresponding illuminated numbers will turn on. Flip the launch switch to go to "DEFCON 1" and activate a 10db MOSFET boost.

From tone to knobs, Ryan worked very closely with us on exactly how he wanted it to look and sound. "I want this to look like someone from the 80s was pushing the technology they had available at the time."
-Ryan Adams