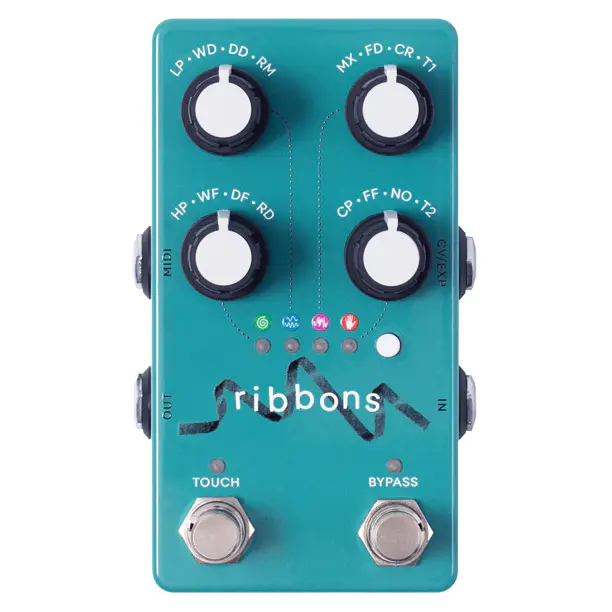 Those who love the sonic character of the old reel-to-reel tape recording machines should look at the Kinotone Ribbons, a stereo magnetic tape emulator (with many extra features) in the shape of a compact pedal – and also the first release by the Minneapolis boutique company.
At its heart, the Ribbons is the classic lo-fi pedal with a four-pole (24dB/octave) low-pass and high-pass filters that adds wow, flutter, tape-style crinkle, static hiss and clicks and pops to your signal.
But it does a lot more than that, here are some of the unexpected features:
The Dry/Wet knob allows the creation classic or creative vibrato and chorus effects
It features a Compressor modeled after a vinyl simulation algorithm
It also has a Stereo Reverb with controls for wet/dry mix, decay time, and where the reverb goes in the signal chain (pre or post tape emulation)
On top of that, it features 4 Touch Modes, performance modes that can be activated momentarily or latched:
Magnetic Dance – Creates a drone of sound using a micro-loop and can be tuned to chords and played it forward or backward.
Tape Stop – Slows down the playback of your audio in real-time, with individual controls for start and stop time. I tan be used to subtly bend the pitch or for dramatic effects.
Broken Machine – Makes a garbled mess of your incoming audio
Repeater – Records a slice of audio and repeats it. The slice can be divided into smaller subdivisions for glitchy effects. Synchronizable using tap tempo or MIDI clock
If that wasn't enough, it also has a couple of surprising under the hood features:
A Four-track asynchronous looper allows up to four stereo 20 second loops (or 40 seconds at 1/2 speed or 10 at 2x speed) with each loop with separate controls for playback direction (forward or backward), playback speed (continuously variable from 0.5x to 2x), and track volume.
A Four-voice sine wave synthesizer that can be controlled via MIDI with a +/- 5 semitone pitch bending.
Both these sound sources are going through the effect.
The Kinotone Ribbons is fully Midi and CV compatible and has presets.
The interface is extremely interesting, featuring four knobs that adjust different parameters depending on which effect is selected through the white push button on the center right.
You can get a better idea of how it works from the video below.
Kinotone Ribbons, Builder's Notes
Ribbons is a stereo magnetic tape emulator. It can degrade, mangle, and age incoming audio in real-time just like that old reel-to-reel you found at the thrift store but with more control and flexibility. Additional features include a variety of creative touch modes, a lush reverb, a four-track asynchronous looper, and a four-voice sine wave synthesizer. All parameters are fully controllable via MIDI or CV.

Lo-Fi Tape Emulation

Four-pole (24dB/octave) virtual analog low-pass and high-pass filters
Controls for wow, flutter, unpredictable dropouts, and tape crinkle
Dry/wet mix to dial in classic or chaotic vibrato and chorus sounds
Static hiss, clicks, and pops
Compressor modeled after a vinyl simulation algorithm found in a classic sampler from 2001

Touch Modes

Four playful performance modes that can be activated momentarily or latched

Magnetic Dance – Creates a drone of sound using a micro-loop. Tune it to chords; play it forward or backward
Tape Stop – Slows down the playback of your audio in real-time, with individual controls for start and stop time. Use it to subtly bend the pitch or for dramatic effects
Broken Machine – Makes a garbled mess of your incoming audio
Repeater – Records a slice of audio and repeats it. The slice can be divided into smaller subdivisions for glitchy effects. Synchronizable using tap tempo or MIDI clock

Reverb

A beautiful stereo reverb with controls for wet/dry mix, decay time, and where the reverb goes in the signal chain (pre or post tape emulation)
Capable of infinite sustain / decay

CV, MIDI Control, Presets

All parameters are fully controllable via MIDI or CV
Directly compatible with all of your favorite MIDI controllers – no external MIDI box required

Internal jumpers available to switch between TRS MIDI A, B, or CBA

Use our handy Max for Live device to control Ribbons via MIDI using Ableton
Use Presets to save your settings and queue them up later using your favorite preset device
CV control up to 500Hz

Easter Eggs

Four-track asynchronous looper

Allows up to four stereo loops

Length per loop: 40 seconds at 0.5x speed, 20 seconds at 1x speed, 10 seconds at 2x speed

Each loop has separate controls for playback direction (forward or backward), playback speed (continuously variable from 0.5x to 2x), and track volume
Overdubbing possible at any speed
Looped sounds are affected by the tape effect

Four-voice sine wave synthesizer

Connect your favorite MIDI controller and start playing
Synth voices are affected by the tape effect and can be used in the looper mode
+/- 5 semitone pitch bending