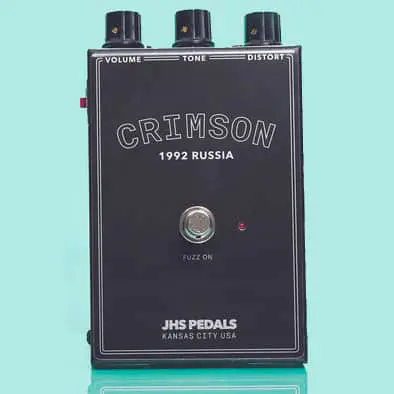 The JHS Pedals Crimson, from the Legends of Fuzz Series, is a faithful recreation of the "Mike Matthews' Red Army Overdrive"
Read the story of the pedal at the bottom of the page and check out the videos, below.
In 1969, Electro Harmonix released the first "Triangle" version of the legendary Big Muff distortion fuzz. All throughout the 1970's we see various new revisions of this famous circuit like the V2 "Rams Head" (1973), V3 "Pi" (1977), V4 "Op Amp" (1978), but in 1984 everything stopped. Electro Harmonix filed its second bankruptcy, closed its doors, and the mighty Big Muff disappeared for almost a decade.

In the early 90's Mike Matthews noticed that his 1970's Electro Harmonix pedals were selling for vintage/rare prices. By 1991 he worked out a manufacturing agreement with an ex-soviet manufacturing company in St. Petersburg and brought the Big Muff back to life. This new version was technically the 7th version of the now famous Big Muff, but since Mike no longer owned his old trademarks, he labeled it the "Mike Matthews Red Army Overdrive" by Sovtek.

This is the very first Russian-made Big Muff ever produced and possibly the rarest of all time. Only manufactured in small numbers from 1991-1992, very few examples of this still exist, making this almost impossible to find. It shares characteristics with the famous Sovtek* "Civil War" (Late 1992) version, but it stands on its own. Warmer, clearer, and more defined than any of the Soviet Big Muffs that followed, the Red Army offers a unique flavor of a very familiar effect. The Crimson is an exact replica of my own Red Army Overdrive, allowing you to own a unique part of fuzz history.

The controls are Volume, Tone, and Distort. Volume sets the overall output level of the effect; turn it up and things get louder. Tone lets you sweep between bright and dark tones so that the Crimson works well with a range of different amplifiers and guitars. Distort is the distortion control; the more you turn it clockwise, the more fuzz you create. On the side you will see a "Mode" button that lets you access a never before heard "JHS Mode". Push that button for a mid frequency boost that forces your sound through the mix.

If you love the tones of the Smashing Pumpkins, Wilco, Sonic Youth, David Gilmour, White Stripes and Dinosaur Jr, then this is the pedal for you.