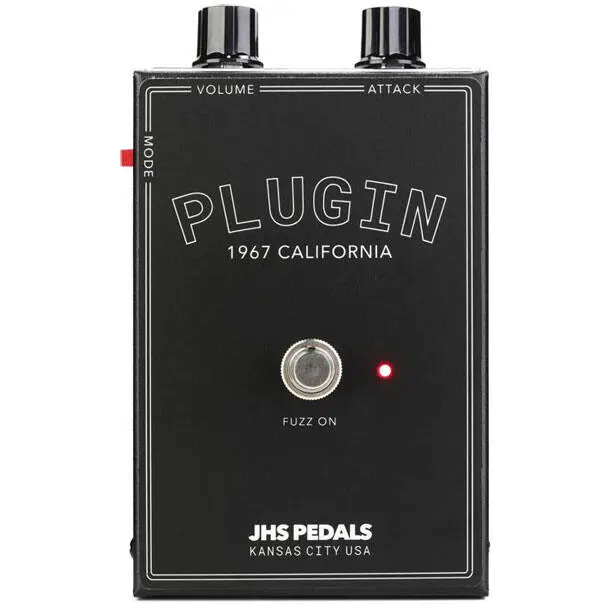 The JHS Plugin is a replica of the Jordan Boss Tone, a device that captured the attention of many guitarists interested in vintage fuzz circuits mostly due to its form factor rather than its actual sound: released in 1967, it was one of the first guitar effects (and the first fuzz) that could be plugged right into your guitar's output jack. It had an on/off switch that needed to be toggled by hand to activate the effect.
This being said, although not as popular as other fuzz circuits from the '60s like the Tone Bender, its gritty, sputtery sound made its way into several legendary recordings by bands like early ZZ Top and Norman Greenbaum, who famously used it in the guitar riff of his hit single Spirit In The Sky.
JHS pedals already had a limited edition plugin recreation of the Boss Tone, called Buzz Tone (obviously nearly impossible to find), so it wasn't too complicated for the Kansas City builder to reword the circuit into a stompbox, although this circuit features an added Mode switch which gives you two slightly different tonal flavors.
Check out the sound of the JHS Plugin Fuzz in the videos below, we added this pedal to our article about the best Jordan Boss Tone Clones and Evolutions.
JHS Plugin Fuzz (Legends of Fuzz Boss Tone Replica), Builder's Notes
1967 BOSS TONE REPLICA
In the mid-'60s, the world's first nuclear company, Victoreen Instruments, launched Jordan Electronics. They started out manufacturing transistorized guitar amps and debuted the first commercially successful U.S. based plug-in effect at the 1966 NAMM Show, the Boss Tone, though it didn't hit the market until 1967. At the time, fuzz was still a new frontier for most guitarists, but nothing else on the market looked or sounded quite like the Boss Tone (a true testament to the ingenuity of Jordan Electronics' owner, George Cole, and head engineer, Bob Garcia). The original unit is a small 1¾ by 2¼ inch molded plastic box that plugs directly into the guitar's output jack. Unfortunately, plug-in effects never quite captured the practicality of a good old-fashioned stompbox, so we've created a floor-based pedal that features the same unique tone.

THIS PEDAL REQUIRES 9V DC NEGATIVE CENTER. 4MA CONSUMPTION. DO NOT USE MORE THAN 9V DC, OR YOUR WARRANTY WILL BE VOIDED.
THE PLUGIN DOES ALLOW FOR BATTERY OPERATION VIA A SINGLE 9V BATTERY. JUST LOOSEN THE TWO REAR SCREWS FROM THE ENCLOSURE AND THE BACKPLATE WILL SWING OPEN. ON THE INSIDE YOU WILL SEE A BATTERY CLIP TO INSTALL THE BATTERY INTO.