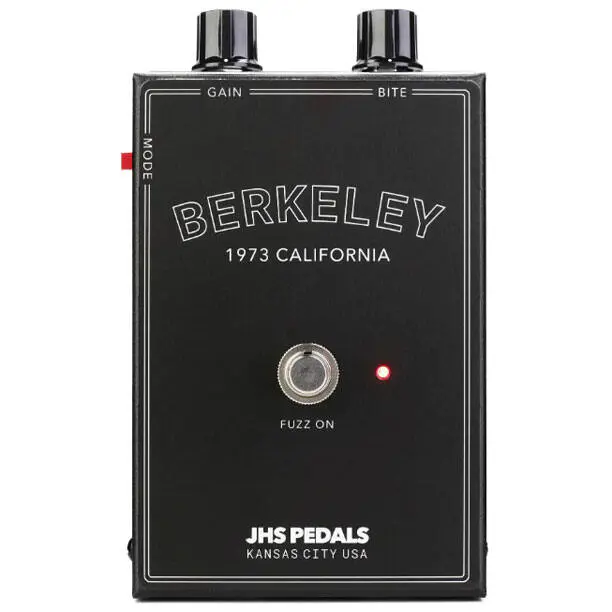 The JHS Berkeley is a tribute to the rare single op amp 741 version (Version 1) of the Fresh Fuzz, a semi-obscure pedal released in 1973 by Seamoon Inc, founded by Craig Anderton (inventor of the Funk Machine) and John Lang.
Adopted by guitar legends Tom Scholz of Boston and Eric Johnson, it's one of the most elusive and misunderstood fuzz pedals of the 1970s. It's been discussed, debated, and dissected, but never fully understood because so few people have actually held one in their hands.
This is going to change, thanks to this clone variant by JHS, which recreates the lower gain and smooth crunch of the original, which was the first gain pedal to use an op-amp instead of a transistor.
The controls are two, like in all the other Legends of Fuzz pedals, in this case for Gain and Bite, just like in the original.
The Mode switch on the side offers a more trebly version of the same tone.
JHS Berkeley, Builder's Notes
1973 FRESH FUZZ REPLICA

In 1973, effects legend Craig Anderton and John Lang launched Seamoon Inc., releasing their flagship fuzz pedal the same year: the Fresh Fuzz. Initially, a fragile plastic enclosure design caused these Bakelite pedals to shatter when guitarists stomped on them, so Seamoon began recasing them in metal enclosures within a few months. Despite inaccurate reviews that the Fresh Fuzz was "thin sounding," it gained popularity and has been used extensively by artists like Tom Scholz (Boston) and guitar virtuoso Eric Johnson. This is our tribute to the rarer single op amp 741 version (Version 1).
SPECS
5.68 X 3.62 X 2 INCHES, 0.85 IBS

THIS PEDAL REQUIRES 9V DC NEGATIVE CENTER. 4MA CONSUMPTION. DO NOT USE MORE THAN 9V DC, OR YOUR WARRANTY WILL BE VOIDED.

THE BERKELEY DOES ALLOW FOR BATTERY OPERATION VIA A SINGLE 9V BATTERY. JUST LOOSEN THE TWO REAR SCREWS FROM THE ENCLOSURE AND THE BACKPLATE WILL SWING OPEN. ON THE INSIDE YOU WILL SEE A BATTERY CLIP TO INSTALL THE BATTERY INTO.