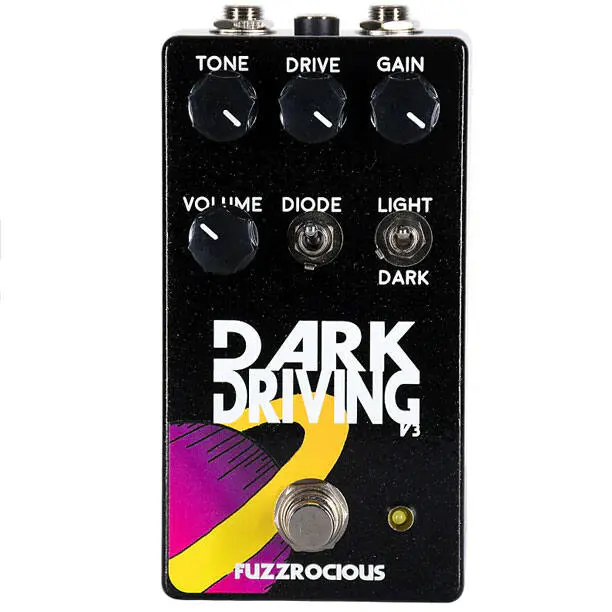 The Fuzzrocious Dark Driving V3 is the compact evolution of a simple one-knob low to medium-gain overdrive launched by the PA-based company at the dawn of its journey in pedaland. The third interaction of this circuit is an incredibly versatile tone device.
While V3 can replicate the overdrive of the first two versions, a series of new and improved controls allow to dial in a variety of driven sounds from the aggressive to the modern and dynamic, without mentioning that it can run at 12v for extra headroom.
The Light/Dark modes, already present in V2 and controlled through a second footswitch, are assigned in V3 via a toggle, with the two voices tweaked for a more dramatic tonal difference, delivering thicker dark sounds and brighter and more piercing light ones.
The Tone control can further sculpt your tone, with a wider sweep than its predecessors, which makes it usable also for bass players.
Like many other modern drives, the DD3 also features two diode voicings, selectable through a second toggle switch, appropriately named Diode, providing a second option based on BAT46 diodes, which sound more warm and compressed. A variety of usable driven to borderline fuzz tones can be dialed in just by playing with the combinations provided by the two toggle switches.
An added clean Volume knob pushes up to 12dBs of gain straight into your amp for that extra saturation goodness.
Here are first the videos of the Fuzzrocious Dark Driving V3.
Fuzzrocious Dark Driving V3, Builder's Notes
All the lower gain tone you're familiar with from the previous Dark Driving is packed into a smaller pedal enclosure with brand-new artwork. With this version, the light/dark mode is controlled by a toggle switch rather than a second footswitch, making the smaller pedalboard footprint possible. It now has both a gain and drive pot, making for more easily shapeable drive and distortion options. If you're biased towards the V1 and V2 tones, don't fret.

The expanded tone control with its insanely wide sweep on V3 can bring you back to those, or help you find something entirely new EQ-wise. And if you prefer more head room, the DDv3 has you covered. It can run at 9-12V, so if you need to open up a little more before you breakup a little more, the choice is yours to make. Leave it on forever as your go-to-gain, or give the rest of your signal chain a little warm, crunchy push to liven things up a bit as needed. No matter how you choose to use it, the Dark Driving V3 fits in flawlessly with any rig.