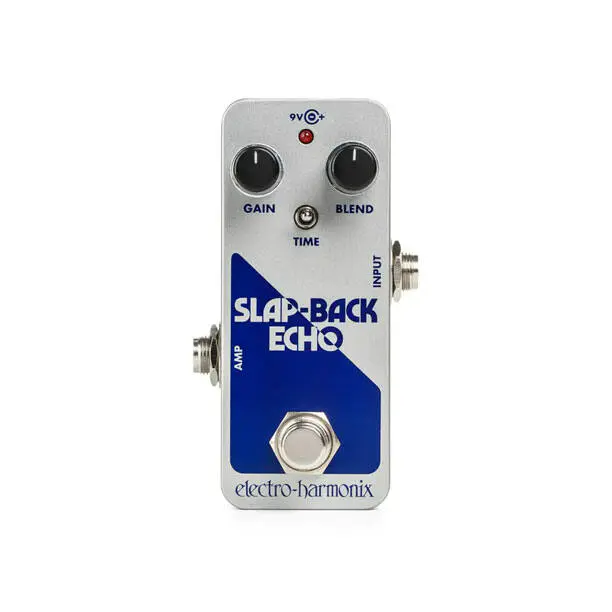 The JHS Show has become so influential that if Josh Scott declares in it that a vintage pedal should be reissued, it really makes little sense, for the original builder, NOT to reissue it. Enter the Electro-Harmonix Slap-Back Echo Reissue, the re-release, in mini format, of a vintage design from the '70s that Mr. JHS thought was worthy of resurrection.
This is a very simple pedal that specializes in the short echo effect introduced in recording from the '80s in particular on vocals, that soon became to be known as "slap-back." There isn't a time knob here but a 3-way toggle switch that delivers 45ms, 65ms, or 100ms delays.
the Blend knob lets you dial in the balance between dry and wet signal, while the Gain control adds up to +20dB of clean signal.
Electro-Harmonix Slap-Back Echo Analog Delay, Builder's Notes
The late 1970s rarity Electro-Harmonix Slap-Back Echo pedal is reissued with modern updates and a Pico footprint!

The 50s era gave birth to an iconic sound in which a single, short delay was utilized to add depth and rhythmic effect on countless recordings. The newly reissued all-analog design of the EHX Slap-Back Echo delivers this beloved classic sound and more in a Pico-sized pedalboard-friendly package. With three delay time settings and up to +20dB of boost, the Slap-Back Echo can achieve subtle doubling effects to intense bathroom reflections all with the distinct flavor of bucket-brigade (BBD) circuitry.

Housed in EHX's Pico-sized chassis, the Slap-Back Echo features Gain and Blend knobs as well as a Time switch. The Gain knob controls the input signal before the echo circuit and also adjusts the overall volume at the output with a boost of up to +20dB. The Blend knob mixes the dry signal and the echo signal from 100% dry to 100% echo. The Time switch selects between three different delay times: 45ms, 65ms, and 100ms.
FEATURES
Independent gain and blend knobs
Time switch with 45ms, 65ms, and 100ms delay times
Up to 20dB of boost
True-Bypass
Small, pico-sized chassis
9V power supply included