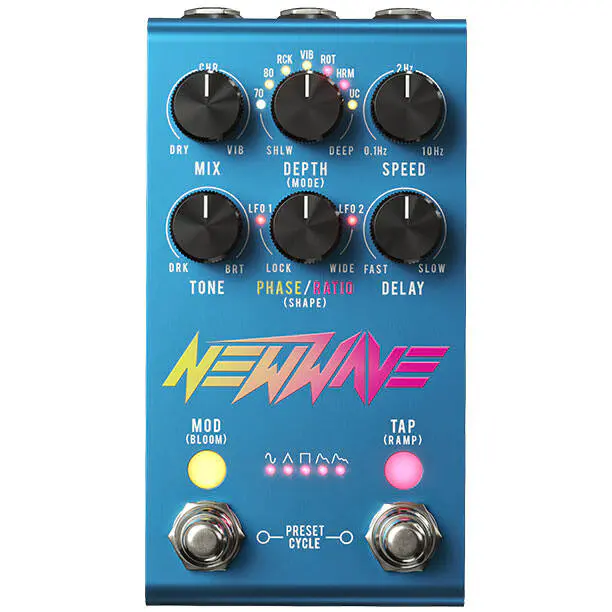 A multi-mode, fully Midi integrated analog chorus based on a MN3007 BBD chip, the Jackson Audio New Wave is the first non-gain pedal by a Houston-based builder that is widely considered one of the most interesting (and successful) new boutique pedal companies to emerge in the '2020s.
While the market is full of multi-modulation pedals offering 1-2 chorus modes among a host of non-chorus options, and also chorus/vibrato pedals with two or three modes, the New Wave is, quite uniquely, a device that gives you several versions of that effect and also a vibrato and rotary effect.
Here's the list of modes:
70: a mono chorus inspired by the devices of the late '70s, based on a simple mono lfo on the left side moving against a static dry sound on the right side.
80: a stereo chorus with two LFOs moving at the same time.
RCK: a stereo chorus with a pitch increase as well as a pitch decrease.
VIB: a classic analog vibrato, in stereo.
ROT: a rotary emulation mode that uses pitch modulation and ratio control of left and right speed.
HRM: an original "harmonic" mode that modulates each channel in a mathematical relationship, creating a rhythmic chorus
UC: user control that allows the user to come up with his or her own effect within the pedal capabilities.
Each of these modes can follow 5 LFO Curves: Sine, triangle, square, and two custom harmonic LFO shapes inspired by the arp Solina keyboard.
But the modes are only one of the innovations found in this pedal. While three knobs deal with the usual controls found in most chorus pedals (Mix, Speed, and Tone), there are two more that do something quite special:
The Mode knob doubles as Depth control, which controls the intensity of the modulation. Under it, there's a Phase knob which changes the phase alignment of the two channels from 0 to 180 degrees out of phase, which increases or reduces the effect's stereo width. This controls doubles as Ratio control, which changes the multiplier speed of the right channel compared to the left channel.
Add to this the momentary Bloom footswitch, which creates a swelling effect when pressed, Tap Tempo/Ramp Footswitch, and Presets, for a featured-packed compact stereo chorus pedal.
Check out the videos below, we added the Jackson Audio New Wave to our article about the best chorus pedals.
Jackson Audio New Wave, Builder's Notes
Jackson Audio is excited to announce the release of the NEW WAVE, a stereo, 100% analog chorus/vibrato pedal that uses real MN3007 BBD chips and a digital microprocessor for precise control, presets, and midi. The pedal has seven savable presets tailored for classic and modern Chorus, Vibrato, and Rotary sounds, including 70's, 80's, Rack, Vibrato, Rotary, Harmonic, and User Control. It offers five digitally controlled LFO wave shapes and unique phase control that allows for synchronizing or 180-degree phase shifting between the two LFOs. We had the pleasure of working with Grammy Winning Artist Mark Lettieri (Snarky Puppy) to create the ultimate chorus pedal. Please welcome a new way to NEW WAVE!

DESIGN
We set out to make the best sounding and versatile 100% analog, stereo chorus/vibrato pedal. To achieve this we knew we could not go digital but needed to add the features that digital products provide. Using authentic MN3007 BBD chips, operating at 15V like the 80's units did. This pedal delivers the classic sounds with added modern precision and all new sounds. Powered by a digital microprocessor, the pedal offers unparalleled control over the analog circuit for unmatched waveform accuracy and programmable presets, features and MIDI. Designed for guitar, bass and keys with an easy to operate interface.

MODES
7 savable modes each tailored for a classic chorus, vibrato or rotary sound. Every mode on the NEW WAVE was carefully curated by Brad Jackson and Mark Lettieri.

70'S – THIS IS THE SOUND OF THE LATE 70'S AND THE ONLY MONO CHORUS IN THE NEW WAVE. SIMPLE MONO LFO ON THE LEFT SIDE MOVING AGAINST A STATIONARY DRY SOUND ON THE RIGHT SIDE.
80'S – LEGENDARY STEREO CHORUS WITH TWO LFO'S MOVING AT THE SAME TIME.
RCK – STEREO CHORUS WITH A PITCH INCREASE AS WELL AS A PITCH DECREASE! DESIGNED FOR A GIANT TONE!
VIB – CLASSIC ANALOG VIBRATO WITH COMPLETE CONTROL.
ROT – USES PITCH MODULATION AND RATIO CONTROL OF LEFT AND RIGHT SPEED. THIS EMULATES THE HORN AND TWEETER IN A ROTARY SPEAKER CABINET.
HRM – HARMONIC MODE MODULATES EACH CHANNEL IN A MATHEMATICAL RELATIONSHIP FOR SUPER INTERESTING NEW CHORUS SOUNDS!
UC – USER CONTROL IS FULL CONTROL. WE DON'T PLACE ANY LIMITS ON THE USER SO YOU CAN MAKE THE PEDAL SOUND AS WILD AS YOU LIKE. YOU'RE IN CONTROL!
FEATURES
FEATURES
5 DIGITALLY CONTROLLED LFO WAVE SHAPES: SINE, TRIANGLE, SQUARE AND TWO CUSTOM HARMONIC LFO SHAPES INSPIRED BY THE ARP SOLINA KEYBOARD.
MIX CONTROL TO BLEND DRY AND EFFECTED SIGNALS (DRY-CHORUS-VIBRATO).
TONE CONTROL FOR SUPER DARK TO SUPER BRIGHT MODULATION TONES.
DEPTH CONTROL ALLOWS FOR SUBTLE TO COMPLETELY SEASICK MODULATION.
DELAY CONTROL TO ADJUST THE CENTER FREQUENCY OF THE CLOCK THAT CONTROLS THE BBD CHIPS AND ALLOWS FOR LOOSE OR VERY TIGHT AND COMPRESSED CHORUS TONES.
PHASE CONTROL CHANGES THE PHASE ALIGNMENT OF THE TWO CHANNELS. 0-180 DEGREES OUT OF PHASE AND MAKE FOR HUGE CHORUSING SOUNDS!
RATIO CONTROL AND CHANGES THE MULTIPLIER OF THE RIGHT CHANNEL COMPARED TO THE LEFT CHANNEL. VERY COOL FOR PERCUSSIVE AND LESLIE STYLE.
TAP TEMPO FOR SPEED CONTROL.
BLOOM MODE FOR SWELLING ACTIVATION OF THE EFFECT.
A PROGRAMMABLE SLOW AND FAST (RAMP) SETTING FOR USE WITH EITHER AN EXPRESSION PEDAL OR BY USING THE RAMP FT-SWITCH.
MIDI CONTROL.
EXPRESSION PEDAL CONTROL OF SPEED.
TRUE BYPASS.