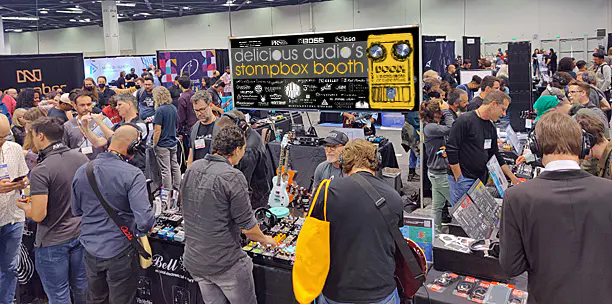 The Delicious Audio Stompbox Booth returned to the NAMM 2022 Show at booth #5239 with a strictly in-the-headphones stand involving over 30 pedal builders.
You can see a quick recap of the new NAMM pedal releases here and here.
You can see a photo album of our booth here and a video with all the boards below.
Here's a playlist of videos of pedals released at NAMM we shot at our booth:
This is the list of manufacturers who participated in our Stompbox Booth at NAMM 2022
Sponsors:
BOSS (Amp Sponsor)
Hosa Tech (Cable Sponsor)
PRS Guitars (Guitar Sponsor)
Voodoo Lab (Pedal PSU Sponsor)
Exhibiting Pedal Builders
3 Degrees
Aguilar
Aviate Audio
Blackstar
BOSS
Collision Devices
Cornerstone Gear
Cusack Music
Darkglass
DryBell
Earthquaker Devices
Empress FX
Flamma Innovations
Gamechanger Audio
Henretta
Hotone
JAM Pedals
JRR Shop
Keeley Electronics
Mojo Hand FX
Mr. Black
One Control
Pigtronix
Red Panda Lab
Screwed Circuits
Sunnaudio
Supro
Tsakalis Audioworks
Valeton
Vox
Westminster Effects
—
We also had a separate booth (#5845) where YouTuber Mark Johnston shot videos of the new pedal released at NAMM, and another booth in the synth section featuring 8 boutique synth builders (#10807).
The Folks at Delicious Audio