Updated Oct. 10, 2018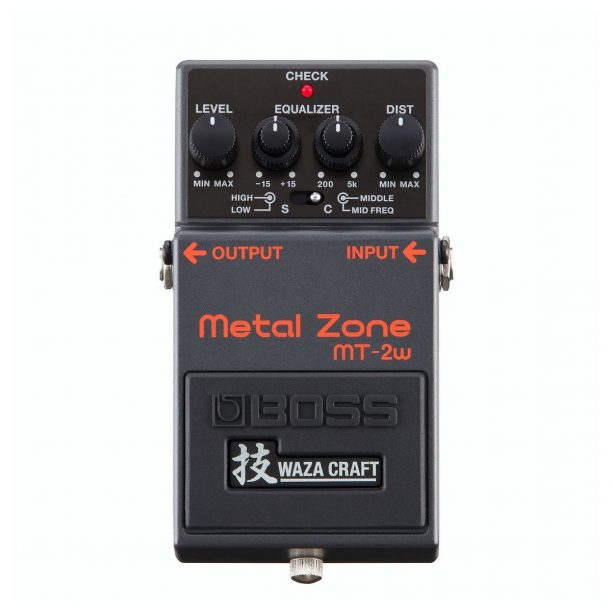 If you don't know this pedal… what are you doing here??? Here's the new version of the legendary BOSS Metal Zone, called MT-2W recreated with the company's new Waza Craft technology.
This new version features the good old Metal Zone sound we all love and revere in Standard Mode, and also a Custom Mode which featured a more focused midrange bump with faster attack and more defined low end thanks to a new "discreet gain circuit."
This and more in these video demos:
For over 25 years, the MT-2 Metal Zone has been one of the most popular and influential compact pedals in the BOSS lineup, with overall sales that are second only to the venerable DS-1 Distortion. Made in Japan and infused with Waza Craft mojo, the MT-2W takes the iconic stomp to new levels of tonal range and versatility. Standard mode delivers an evolved version of the original mid-focused Metal Zone tone, while Custom mode introduces a fresh, wide-ranging voice that's perfectly suited for today's diverse high-gain styles.

Standard Mode: Enhanced Metal Zone
Supported by the discrete components in the MT-2W's dual-stage gain circuit, Standard mode takes the Metal Zone's famous mid-driven sound to the next level. The attack is even more responsive, and the definition and clarity has been enhanced as well. Noise has been reduced too, providing improved performance at ultra-high gain settings.

Custom Mode: Wide and Tight
Engaging the MT-2W's Custom mode voices the pedal for a huge, wide-ranging sound, making it ideal for nearly any current heavy style. The tone is natural and open, with increased dynamics and rounder lower mids than Standard mode. Even at the highest gain settings, the low end remains full yet tight, focused, and well-defined, perfect for chugging out low-tuned riffs. The sound also cleans up very nicely when reducing your guitar's volume, putting an extremely balanced range of tones under your fingers.