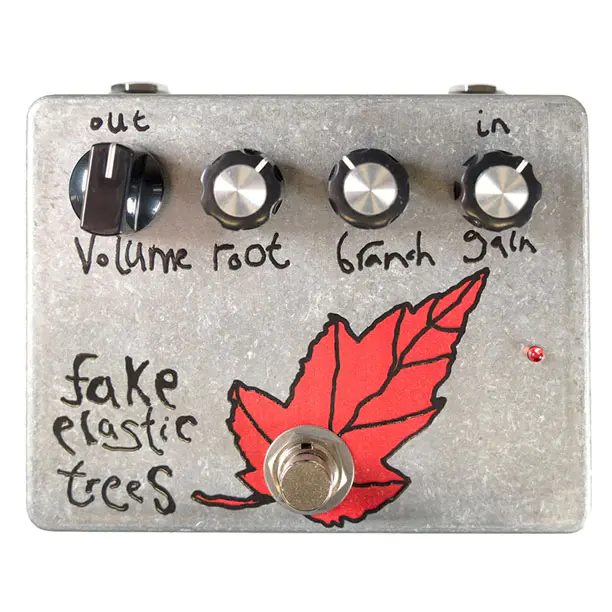 Audio Kitchen is a boutique amp and pedal builder based in the UK that focuses on their own, scrupulously engineered designs, deliberately avoiding to "pay homage" to existing classics. The Fake Plastic Trees overdrive/distortion/fuzz is a solid state version of the line out of their own popular The Big Trees tube pedal, which sells for over $1,000 USD on Reverb.
The pedal's circuit simulates the behavior of an EL84 tube with a JFET transistor.
The four knobs deal with Volume, Bass (Root), Treble (Branch) and Gain, and can concot a wide variety of amp-like tones both for the amount of gain (from boost to fuzz) and for the tonal character.
Hear the sounds produced by the Audio Kitchen Fake Plastic Trees in the videos below.
The Fake Plastic Trees (FPT) is a scrupulously engineered, solid state homage to the array of euphonic joy available on the *'line out' of our much loved The Big Trees (TBT).

'But what's inside?', I hear you cry! The following are a few of the elements:
Class A, hand-graded JFETs, a discrete stage modelling the EL84 grid-clipping profile, a custom Mumetal output transformer, TBT speaker load, and a Class A line driver.

The combination of those components, plus the painstaking refinement of each element have crystallised into a pedal which has the ultra-dynamic feel and irresistible playability that have become Audio Kitchen hallmarks.

As I type, there are very few of these out in the wild, but in the same way as TBT has spread its canopy of application further than I could have imagined, I'm eager to see what you all make of this new addition.

Here's one encouraging first impression:

"Loving it. So musical and flexible. Gives an otherwise flat amp some dimension. And can punch out some fat clean and super squeeze small amp tones too. Especially with the bass cranked. Very expressive. I think the key is a no master volume amp. It really shines there.
i was gonna stop several times but i kept playing to see what else i could get from it—so many sounds—modern and old." – Joe Barresi