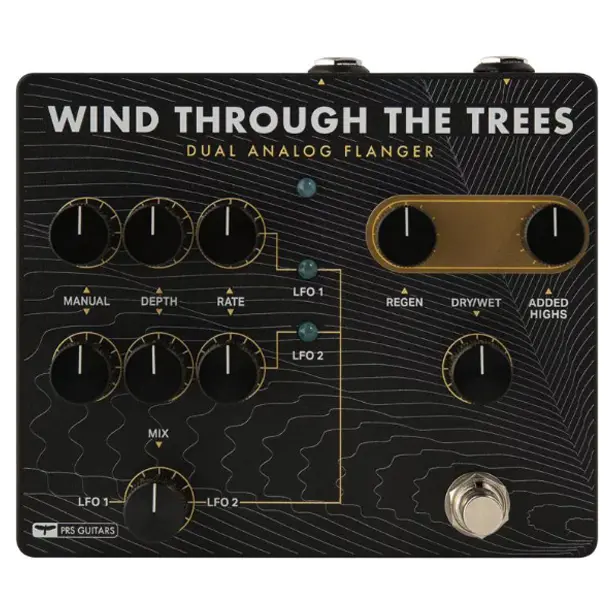 In the video below, Paul Smith Reed himself premiered the first PRS Guitar pedals on the market: the Wind Through The Trees, a dual analog flanger.
The two flanger circuits are placed in parallel and each feature controls for Manual, Depth and Rate, and are then sent to a Mix knob that lets you blend them to taste.
Three extra knobs on the right part of the pedal deal with Dry/Wet blend, Treble frequencies, with the Regen control accentuating the effect's "swoosh."
Hear the PRS You will be able to try these pedals at the upcoming Brooklyn Synth & Pedal Expo.
PRS Guitars Wind Through The Trees, Builder's Notes
DUELING FLANGERS
The PRS Wind Through the Trees dual analog flanger pedal is best described as two flangers fighting each other, resulting in a sound reminiscent of the wind whipping through the trees. With Manual, Depth, and Rate controls per flanger as well as global Regeneration and Added Highs, Wind Through the Trees offers nearly endless tonal possibilities. Bottom line, Wind Through the Trees offers hours of fun for any player.

PRS pedals were created to be high-end pieces of audio gear.

Through-Hole Mounted
We spent considerable time comparing available electronic components, and through-hole soldering enables us to utilize the best-sounding parts.

True Bypass
PRS pedals are true bypass, so you can stay connected to your amp. When they are off, they are out of your signal chain, and the tone of your instrument can be heard without coloration.

Made in the USA
PRS Pedals are designed by PRS Guitars in Stevensville, Maryland and proudly made in the USA.

SPECIFICATIONS

Pedal Type Dual Analog Flanger
Analog/Digital Analog
Inputs (1) 1/4″ Instrument
Outputs (1) 1/4″ Instrument
Bypass Switching True Bypass
Amperage 22 mA
Power Sources 9V DC Power Supply, regulated and/or isolated (not included)
Batteries (1) 9V (not included)
Length 5.5″
Width 1.5″
Height 4.5″
Weight 1.3 lbs