Posted by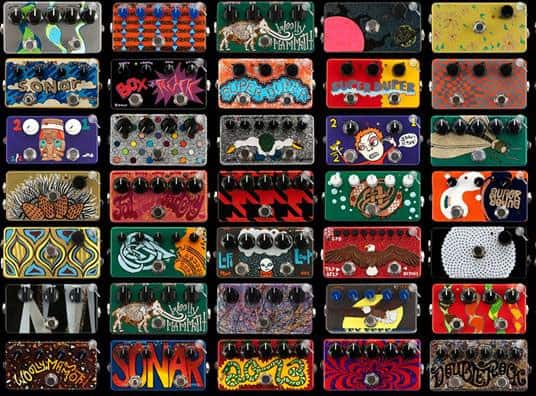 Minneapolis based pedal builder Z.Vex Effects features some true and tried classics among its colorful and quirky looking line of stompboxes. Their Fuzz Factory turned twenty in 2015 and has been a best seller for years – it recently placed second in this list of best selling fuzz pedals compiled by Reverb.com. Other popular models include the Box of Rock Distortion and the Lo-Fi Loop Junky, among others.
One of the early pioneers in the realm of boutique pedals (it was founded in 1995), in recent years Z.Vex has been focusing on custom models and limited editions, mostly variations of circuits from their earlier designs, but also on a gigantic, brilliant (but extremely impractical) tea-candle powered tremolo effect called Candela Vibrophase.
Owner/founder Zachary Vex is a charming fella and knows the value of a good story; in the press releases for the company's limited edition stompboxes he always includes a story about how and/or why that particular design was conceived, with details concerning the various circuits, components, and mods.
We are gathering in the gallery below the four limited edition pedals Z.Vex released between 2016 and 2017, with a summary of their story available on mouseover. Three out of four were available for sale for a brief period of time, the only exception being the '59 Sound, which is being released also in "Vexter" version, available for $219 instead of $349 – all the Vexter Z.Vex pedals are more affordable and feature silk-screened art; the parts inside are identical to the hand painted model.