Posted by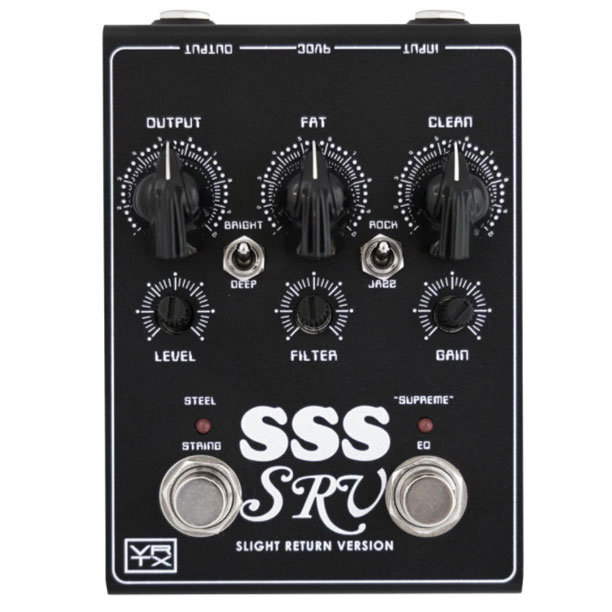 Vertex Steel String Supreme SRV is a version of the company's D-Style flagship pedal inspired by the "Slight Return Version" of the Dumble amps, which sports a tweaked circuit featuring modified Bright/Deep and Jazz/Rock switches.
Based on model #001 of those legendary amps, it delivers an even glassier and warmer tone than the regular version, with which it shares the rest of the circuit (dual-channel, EQ footswitch, 6 knobs + 2 toggle switches controls).
Here's the video of it.
LENNY CLEANS TO TEXAS FLOOD LEADS – THIS PEDAL'S GOT IT ALL!

When it comes to SRV-style glassy clean and fat lead tones, the Vertex Effects Steel String Supreme (Slight Return Version) — based on serial #001 of a legendary six-figure Dumble Steel String Singer — is the only tone shaper you'll need in your arsenal. Whether you're front-ending a stage amp with the SRV's expanded all-analog preamp, feeding a little Texas sugar into your Amp Modeler, or even running straight into a Cab Simulator/IR Loader, this pedal is guaranteed to put a smile on your face. Just like the amp it's named after, the Steel String Supreme (SRV) is characterized by a fat and glassy tones sound that absolutely marinates signals in tubelike harmonics as you ramp up the gain. The SRV's active EQ and Bright/Deep + Rock/Jazz switches add new tone-shaping capabilities from the original SSS and bring you a bit more available top end "glass" and a little more low-end "snap" to this latest addition to the Steel String family. From subtle fattening and clean compression to full-on overdrive, the Vertex Effects SRV edition is the next best thing to having the real-deal SSS in your rig.

REINTRODUCING THE SLIGHT RETURN VERSION (SRV)

Reviving the popular "Slight Return Version" model was a no brainer! The original Slight Return Version (during the Steel String MKI era in 2018) routinely fetches upwards of $400 on the used market with its cult following:

See recent Reverb listing of 2018 Steel String MKI (SRV):

However, now in 2021, we're re-releasing the SRV (Slight Return Version) in our new multi-channel "Supreme" format. The Steel STring Supreme SRV model takes all the great aspects of the original 2018 model and adds all the magic of the added "Supreme" channel with the ability to run direct into a cab sim or use the pedal as an analog preamp in front of any tube amp to get the ultimate D*style clean tones. See them below side-by-side below – (exact same enclosure size), but more than double the features, two independent channels, and added toggle switches for more Stevie-ish "glass" and "fatness" with the Bright/Deep and Jazz/Rock switches:

BASED ON THE ORIGINAL DUMBLE STEEL STRING SINGER (SSS)

Players like SRV, Eric Johnson, and John Mayer have all sung the praises of a rare 100-watt 6L6 blues machine that achieved legendary status in the mid-1980s. And whether its a sip of that Texas tonal flood or the intoxicating Lenny cleans that you're searching for, the Vertex Steel String Supreme SRV — successor to the Steel String MKI Slight Return Version is packing 500% more tone-shaping potential — faithfully captures that "SSS" (that's "Sparkle, Squish, and Saturation") magic in a pedalboard-friendly stomp.

Below is the actual amplifier we used to voice the Steel String pedal, Dumble SSS #001:

D-STYLE CLEANS WITH GLASS AND SNAP

With gain settings below 1:00, the SRV makes a highly versatile fat boost, with an active EQ section to dial in that D-style midrange shaping your instrument demands. Above 1:00, the SRV sweetens your signal with vine-ripened drive characteristics matured in the Texas sun. Wide open, this pedal packs enough juicy gain to take you well into overdrive territory. All the while, true bypass operation preserves your dry signal whenever you don't have the SRV engaged — though, if you're anything like us Stevie Ray fanatics, it's pretty much a nonissue, since you'll never want to turn this thing off. The SRV is assembled in California and comes in a rugged steel housing with authentic D-style appointments resembling Stevie Ray's Dumble Steel String Singer:

Below is Stevie's actual Dumble SSS – black/black with white text, black chicken-head knobs:

Bleow is the SSS (SRV) pedal emulating the colors and knobs of Stevie's Dumble Amp:

STEEL STRING (SRV) FEATURES:

• Based on model #001 of an original run of legendary 6L6 blues machines
• A true amp in a box — designed to go into tube amp or direct to Cab Sim/IR Loader
• Inspiring glassy touch sensitivity, warmth, and low-end snap
• Versatile Gain and Level controls make this a capable clean boost or full-on overdrive
• Re-shaped EQ, Bright/Deep switch, and Rock/Jazz switch for the perfect "Texas Tone" compared to the original SSS
• Rugged steel housing
• Authentic D-style aesthetics, resembling SRV's amp
• True bypass switching
• Designed in California