Updated May. 4, 2020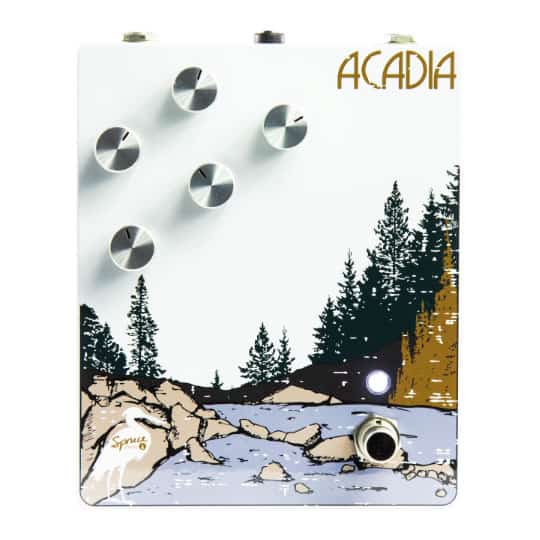 Los Angeles' Spruce Effects just announced a new line of limited pedal releases called Americana, and unveiled the first device in this series, the Acadia, a dual Germanium fuzz.
This pedal is very flexible thanks to the two gain stages, controlled by the two top knobs, and the three tone sculpting bottom knobs, controlling, from top to bottom, Volume, Bias and Depth.
The Acadia pedals will feature art and names inspired by the American natural parks, and will come in a beautiful and "vintegey" custom tin 'lunch box' carrying case
As the eastern-most National Park in the United States, The Acadia is the first pedal being released in The Americana Series. This fuzz is a highly tune-able beast with multiple gain stages ready for whatever your amp, guitar, and playing style can throw at it. It can do light, warm grit, subtle, volume-interactive fuzz, and raging sustain depending on settings.

Switchcraft and Lumberg Jacks
Demont soft-touch mechanical switch
Proprietary turret+PCB design
NOS Germanium transistors
NOS Ero, Vishay, Philips, CDE, Sprague, Dearborn and other premium quality audio-grade capacitors
Dale Military spec metal film resistors
Silver-coated solid core teflon wire
Hand-wired and assembled in California
Custom tin 'lunch box' carrying case
Hand silk-screened customized ID tag
Custom maple and steel etched bartender's bottle opener
Custom art print and instruction card