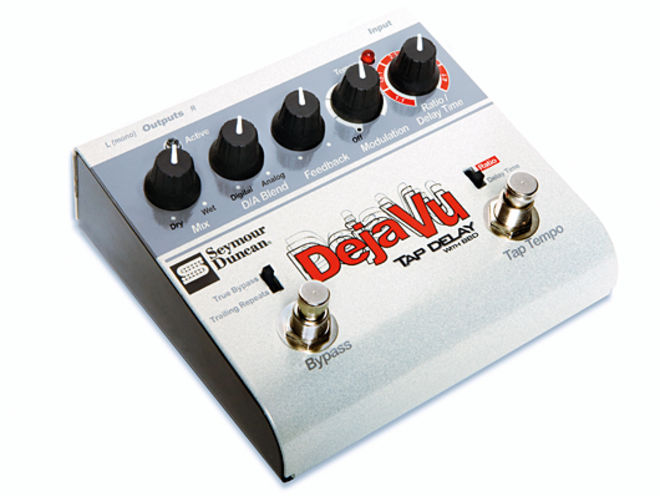 With thousands of delay pedals available, not to mention recording plugins, choosing an effect can be overwhelming. Are you looking to add a subtle slapback or an intense rhythmic pattern?
While it's capable of everything you'd expect from a delay pedal, Seymour Duncan's SFX-10 Deja Vu Tap Delay truly excels at the latter. Though its sound is not as immediately glowing as an Electro Harmonix Memory Man or controls as eccentric as a Line 6 Delay, the Deja Vu's strength lies in its flexibility and precision when dialing customized sounds into a live environment.
The Deja Vu contains all the standard delay controls (wet/dry knob, feedback, delay time) with some notable extras. A dedicated tap tempo footswitch with a ratio knob (half note, quarter note etc.) makes it unbelievably easy to adapt complicated delay settings on the fly. Meanwhile, a toggle between a true bypass mode and trailing repeats lets you kill the delay effect while letting the echoes trail off. This allows for adding anything from sweet flourishes to ringing shock waves. Finally, a feedback insert jack lets you apply a separate effects chain to the wet signal, giving you endless possibilities for customization.
Even without using the insert, the Deja Vu has some nice built-in features for shaping the delay's tone. The pedal has a D/A blend knob which moves seamlessly from a crisp snappy digital sound to warm true-analog echo. The modulation dial moves between a few preset flanging and vibrato style effects (similar to the Electro Harmonix Memory Man). They add some interesting character to the delay, however, they aren't labelled which is a little confusing at first.
For those who need precision delay, but don't want to depend on using midi or backing tracks, the Deja Vu is indispensable. Sonically, it holds its own against most high-end delays, with enough tweak-ability to shine in any style of music. – Ezra Tenenbaum