Posted by
I had the pleasure of attending the 2012 NAMM Conference in Anaheim, CA. It's a beautiful thing when a large selection of the world's music equipment manufacturers get together to show off their goods in hopes of impressing buyers and exciting faithful followers for what's to come. Although, buyers and manufacturers aren't the only ones in attendance. I got reminded of this when I was jamming out on the new Dave Smith Instruments' Drum Machine called Tempest. I looked to my right whilst in the middle of pounding out a beat and saw none other than the great Stevie Wonder standing next to me!
Celebrity sightings aside, all in all NAMM 2012 was overwhelmingly iOS-centric. So many iPads and the like. However, there was an interesting nod to the vintage and analog sounds of yesteryear as well. I am expecting a great year of new music in 2012. As always it will be fueled by all of this new and exciting equipment. – Gus Green and Paolo De Gregorio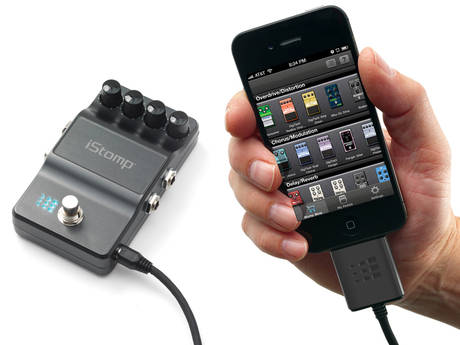 There were some things that caught my attention and stood out as being new and noteworthy. First off we've got the iStomp from Digitech. We will be reviewing the pedal in its entirety soon but just a quick explanation: it's a programmable single stomp box that requires an Apple iPad, iPhone, or iPod touch running the latest OS and a Digitech app called Stomp Shop to operate. The idea is that you buy a single iStomp pedal which is just a basic black stomp box with 4 knobs and you can program it to be any of the desired effects from the app. Some of the pedals to select from include emulations of the Rat distortion, tape delay, tube screamer, analog chorus, jet flanger, and plate reverb just to name a few. They range $5-10 and will continue to grow in number and evolution. It's great for times when you need "that sound" but you don't want to invest an arm and a leg considering you may not use it again for six months.
A similar iOS accessory is coming to us from IK Multimedia. The iRig Stomp is a stomp version of the already popular Amplitube iRig. It adds an attenuator, bypass switch and stereo 1/4″ IO to the feature set and is meant to be a guitar interface for iOS amp modeling software. Looks nice in its sleek black casing, and definitely more appealing for live guitar players rather than the original version.
Alesis also showcased a new and rather impressive product for iPad, the AmpDock, to be released later in the year. This product's appeal is that it works with any guitar application out there, and allows a deeper control of your tone shaping app through 4 foot-switches, one volume-like foot pedal and 6 knobs accessible by hand. Also, the fact that it looks like some kind of futuristic Ferrari accessory is a nice touch – since we can't afford the real thing…
On the good old "i-less" side of things, a product that blew us away was the Infinity Looper by Pigtronix (out in April). There have been many loop pedals that have been popularized over the years by one man bands and none of them have been very good at syncing with other sources. This particular looper seems to have the answer to all my loop pedal syncing woes. It allows for two independent loops with individual I/O routing as well as different options for loop length. In addition, they can be in sync, out of sync with each other or lock to MIDI time clock. It also has an AUX out for sending a feed to stage monitors. If it does what it claims to do well it will be a force to be reckoned with in the loop pedal department.
Vox is putting out a pretty extensive digital delay pedal called the Delay Lab. It is set to emulate several types of delays past and present. With emulations of the old school Bucket-Brigade style analog delay to the primitive quality of early digital delays this pedal claims to have it all with a few surprises thrown in to boot. One of them is a Space Delay with string-like overtones that add to the spacial depth. It even has a 28 second looper.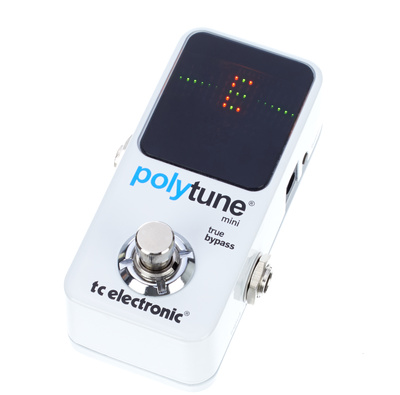 From TC Electronic we have the Polytune Mini which builds on the same technology as its bigger brother but at a third of the size – great if you have a crowded pedalboard. It features the ability to strum only once to make all of your tuning adjustments. It also allows for Drop D and Capo tunings and keeps tuning accuracy to +/- 0.5 Cents. This is a great concept and I expect to see more and more bands use this in the future.
Lastly, I want to give a shot out to one of my favorite synth manufacturers, Moog. It's not a pedal but it's a rad little synth. It's a 2 Oscillator synth with the Legendary Moog Ladder Filter circuit called Minitaur. It's aimed mainly at folks that want to add an analog bass line to their performance without breaking the bank. I checked it out personally and will say that it sounded big and fat and will retail pretty modestly considering the high-end manufacturer, Moog Music Inc.