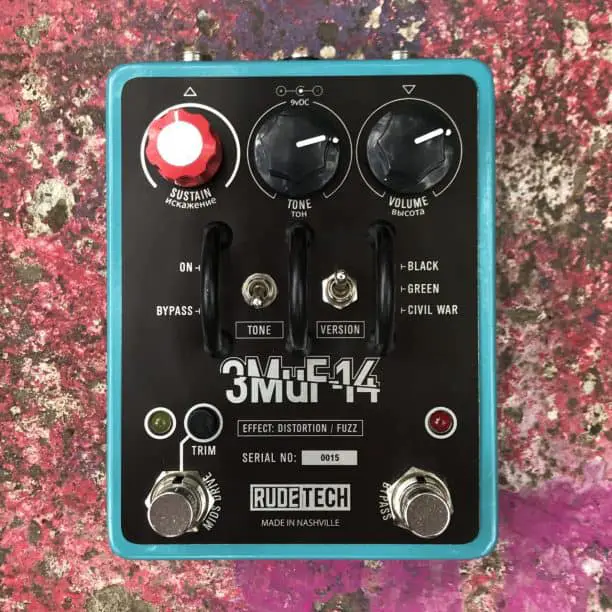 Russian Big Muff lovers, rejoice!
The Rude Tech's 3MuF-14 is a three-in-one muff style distortion/fuzz, emulating three different Russian fuzz circuits (Black, Green and Civil War) through a 3-way toggle, while also offering a fourth sound achievable by entirely bypassing the "Version" circuit; this produces a tone that keeps the Big Muff character without the original circuit's classic mid scoop.
To further widen your sound palette, the muffed-out tone is then put through an overdrive circuit with a slight mid-frequency bump (tweakable via internal trim pots), for extra punch and definition. This overdrive has a separate gain knob (Trim) and can be triggered via the second footswitch; its opamps and transistors can be swapped with your favorite ones for extra flexibility.
Here are some videos of the Rude Tech 3MuF-14.
Three different muff fuzz circuits, selectable with a 3-way toggle switch.
Add to that a tone-bypass option, then feed it all into an active Mids Overdrive that you can kick on and off at will.

Remember when muffs were rumored to be made of scrapped Soviet tanks? Well, the 3MuF-14 might as well be a control panel ripped out of the cockpit of a MiG jet.

Features:
3-way selectable muff circuit (Black, Green, and Civil War)
Tone bypass toggle
Built-in mids overdrive
Internal trimpots to tweak the mids drive voice
Socketed opamps and transistors. Experiment with different components to customize your pedal.
Heavy-duty construction with metal faceplate, aluminum toggle guards, and individually numbered and signed units.