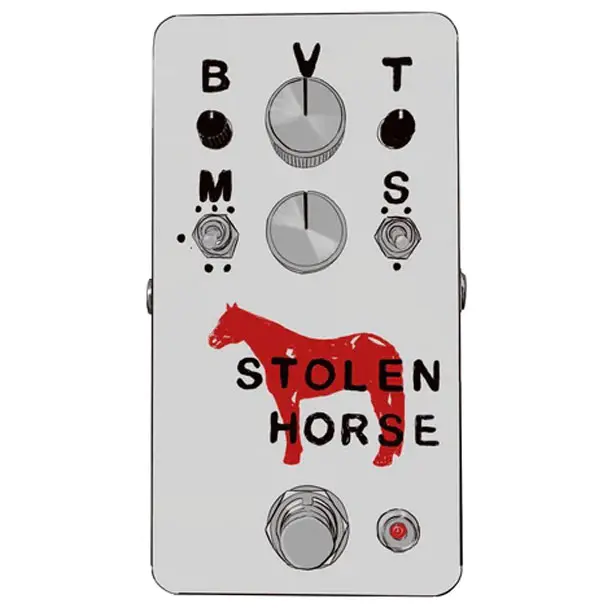 NOT a Klon clone (as some may have assumed from the name/graphics combo), the Ohms Pedals Stolen Horse is a LOUD distortion pedal using an original circuit based on multi-stage opamp clipping with plenty of tweakability.
The gain circuit was designed to produce amp-like tones from clean to heavily distorted, while the flexible EQ section is based on Hi and Lo baxandall filter and a 3 position Mid switch (M toggle).
The S toggle selects the saturation mode:
1 dot mode produces a more open distortion that cleans up well.
2 dots mode adds a buffer in the feedback loop of the second gain stage, delivering a fuzzier sound that's a lot heavier and almost gated, with and extra mid-frequency push.
Check out the first video of it.
Ohms Pedals Stolen Horse, Builder's Notes
This is a completely original circuit. Though there is a horse in its name, it has nothing in common with a Klon. I just played way too much Red Dead Redemption for a while. Can distort your signal in a way never done before! Amp like tones! Using multi stage opamp clipping, no diode clipping at all. Very tweak-able EQ section with Hi and Lo baxandall EQ and a 3 position Mid switch.

Has 2 saturation modes! Position one is more open and can clean up well. Position two is a fuzzy, gated, hairy sound that PUSHES those mids even more forward. This position adds a buffer in the feedback loop of the second gain stage which I've never seen done. Adds a gated aggressiveness to the sound that I had to leave in. Uses bipolar power rails for twice the headroom. Tons of output! Completely designed and built by me.