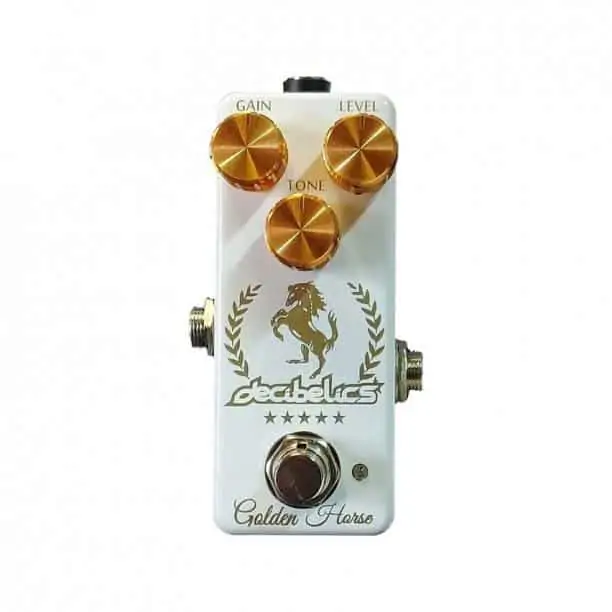 Among the hundreds of Klon clones, the Decibelics Golden Horse stands out as both the most expensive one in mini format (at around $270 + shipping from Barcelona) and the most hyped of the bunch, which is why – unless you find it used on Reverb or eBay – the wait for it can be lengthy.
Hand-made-to-order and available in many colors, this Klone sports almost the exact same components and values as a Klon Centaur #2505 from 2001, but packed in a case that's around 1/4th the size of the original. Each unit is tested against that pedal before is shipped out.
Geeks among you can find more information about the components used in the Specs section at the bottom of this post.
Due to its size, it doesn't accept batteries, but the builder can provide an external adapter for 9v DC fans – the latter could alternatively buy the Golden Royale, which is a double channel version of the Golden Horse with extra features, including a battery slot.
We added the Decibelics Golden Horse to our shortlist of the best Klon Centaur clones.
DECIBELICS GOLDEN HORSE PROFESSIONAL OVERDRIVE – MINI KLON CENTAUR ACCURATE CLONE

"It just don't "simulate" the Klon Centaur tone as other clones do, it sounds and feels as if it was an original unit" – Matt, Klon Collector

"Definitely the best Klone ever made. I'm absolutely impressed" – Bill U., Tone Chaser

Decibelics Golden Horse Professional Overdrive is the result of all my experience studying and building Klon Centaur clones squeezed into a mini enclosure. Handmade from thru-hole and New Old Stock components and same values as the original. No SMD or approximated values – My goal was to give Tone and Mojo in a mini footprint. You are not buying a mass-produced and lifeless pedal here.

The Decibelics Golden Horse is the only klone in the market, that is A/B tested against a real gold Centaur prior to be shipped to you.

Specs:

+ Exact sonic reproduction of my original gold Klon Centaur, horsie close-tail, serial number 2505 from 2001 (See pictures below) Among my original Klons, this particular unit was undoubtely the one with the best tone.

+ Mini luxury format, vintage and thru-hole components, built one by one, with extreme dedication. Fruit of years of experience studying the circuit and building Klones for professional guitar players.

+ Same Panasonic ECQ-Series N.O.S. capacitors as the original

+ Same N.O.S. 1N34A Germanium diodes (Clear crystal and black band as the original, made in USA) – The commonly known as Magic Diodes. The Golden Horse is most probably the only Klone using them. This is thanks to my fantastic vintage components supplier that keeps tirelessly sourcing them globally.

+ Same combination of carbon and metal film resistors

+ Same Tantalum capacitor in position C16

+ Same format on capacitors in values above 1uf -Electrolytics- adapted to the size of the pedal

+ Same Charge Pump that raises internal voltage from 9V to 18V for bigger headroom

+ Same values and highest quality in the other components: Opamps TL072 from Texas Instruments, noiseless Charge Pump from superior quality, Bourns Pro Audio potentiometers, Footswitch Alpha DPDT, Lumberg Japan jacks, Hammond enclosure powdercoated and screen-printed by hand

+ Buffered bypass, same as the original, with correct values

+ PCB board of my own design, with parasitic noise level optimization

Accessories included: White Shipping Box de luxe (Foam inside), 4 Rubber Feet, English Manual, Certificate of Authenticity.

Starting October 2020, and after customer feedback, the external battery adapter is no longer included. If you need one, let me know after your order is made.

+ Dimensions with jacks: L 95mm (3.74in) x W 49mm (1.92in) – Current Draw: 25mA

ONLY MADE TO ORDER

I build them in monthly runs. Every first week of the month I decide how many Golden Horse I'm going to build – depending on the time and stock of components available – and I put them in Pre Order on the Decibelics website and my Reverb store. I build them in the following weeks, until they are finished, tested in the studio and I ship them at the end of the month.

I PROTECT YOUR INVESTMENT

I do not do temporary sales or discounts, so no single Golden Horse Overdrive will be sold cheaper than you paid for it, ever.

ADDITIONAL NOTES

+ Every pedal is custom signed with the name of the customer on the inner side of the rear plate. Please note that I will write the name that appears on billing address – If you want me to write another name, let me know in the order notes or drop me a message guillem @ decibelics.com

+ You can ask for a picture of your pedal next to the original gold Klon Centaur before it's shipped to you.

+ This is a Pre Order – Your Decibelics Golden Horse will be completed and ready to ship 4-5 weeks after the order is placed. In most cases I ship a bit ahead of schedule, so if you are in the process of moving by the time your pedal is being built, let me know beforehand.

SHIPPING AND RETURNS

+ Prices do not include shipping costs

+ I ship from Barcelona, Spain (Europe) – I use UPS, Fedex, and Correos. Tracked and Insured. I use Express shipping only – It costs just a tad more but it's well worth it: much faster and trouble-free. You are buying a Premium pedal and you'll get Premium customer service. Since I reached a fantastic agreement with my shipping manager, prices are similar or even below most non-express shipping costs. Transit time is usually less than a week, but may vary depending on the destination country. Although almost all recently shipped orders arrived on time, please take into account that during the outbreak some shipments may be delayed.

Express Shipping costs for 1 pedal: USA/Canada 26EUR, Spain/Portugal 6EUR, Europe (EU) 14EUR, Europe (Non-EU) 19EUR, Asia/Oceania 35EUR

Combined orders will have the shipping costs reduced for the 2nd and/or successive pedals.

+ Customers from the UK after Brexit: As of January 1st, you may noticed a drop in the price of my pedals, as the 21% EU VAT is no longer applied to UK orders. However, please note that with the new Brexit regulations, and based on what my recent UK customers reported, UK Customs may charge you 20% VAT and a £12 admin fee. Some reported receiving the pedal at no charge, but they seem to be the exception.

+ All Decibelics pedals are covered by our Limited Lifetime Warranty. This warranty covers any manufacturer's defects and is only applicable to the original owner. It DOES NOT cover normal wear and tear or product failure, cracking, breaking, damage, or loss caused by misuse, dropping, abuse, lack of maintenance, improper assembly, or not meeting the criteria of a manufacturer's defect.

+ Sales are final. This item is sold As-Described and cannot be returned unless it arrives in a condition different from how it was described.