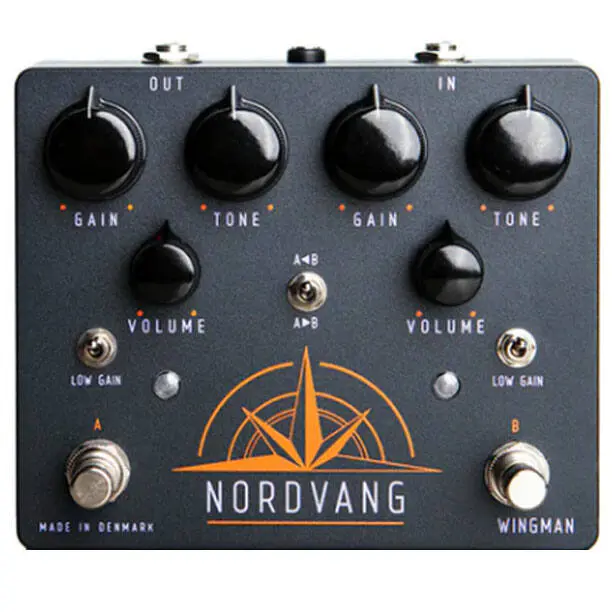 Nordvang is a Norwegian company that seems focused on building high-quality dual-channel overdrives in which at least one side is a Klon-style circuit. The Nordvang Wingman V2 is the updated version of the one pedal in the company's roster that features two of them, so it's technically a dual Klone.
Each of the two identical channel has its own footswitch, and the 3 classic Klon knobs (Gain, Tone, Volume), which are integrated by a toggle switch that adjusts the OD's maximum gain range.
There's also another central toggle that reverses the order of the two circuits, while internally, a set of dip switches for each side allows you to extend the bass response.
Version 2 improves the device's circuitry and introduces a TRS split function to use with pedal looper systems enabled via three internal dip switches.
The Nordvang Wingman V2.0 is featured in our article about the best Klon Centaur Clones.
Nordvang Wingman V2.0, Builder's Notes
By popular demand the Wingman v2.0 now features a TRS split function to use with pedal looper systems like the GigRig etc. The TRS split is enabled via three internal dip switches.

Introducing Wingman, our new dual overdrive pedal. Featuring two identical overdrives based on the mythical K-style circuit, each channel of the Wingman can be used independlently or together to create the ultimate boost and medium gain overdrive with loads of headroom and output on tap.

Our inspiration for this pedal came from demand from fans of our No.1 overdrive requesting a dual version of that pedal. They loved how very versatile the pedal is, as either a clean boost or as a mid pushed medium gain overdrive. It made sense to offer it in a dual version allowing the full potential of the circuit to shine through. Wingman is a military aviation term of "the plane flying beside and slightly behind the lead plane in an aircraft formation". This is how we came to the name of Wingman, as the two circuits can be used seperately or stacked together

Staying true to the original we've kept the buffer, but added switching options for tweaking and also changed all internal op amps supply voltage to +/- 9 Volt for better signal handling, when stacking the two sides.

The Wingman overdrive is divided into a side A (left) and a side B (right), separated by an order toggle switch in the middle which flips the internal order of the effects and hence the signal path from guitar to amp.

Both side A and side B features external controls for GAIN, TONE, VOLUME and a two position toggle switch labeled Low Gain. The Low Gain switch adjusts the maximum gain range in the overdrive gain stage. Internally you'll find one set of dip switches for each side labeled lows, which allows you to extend the the bass response in the circuit.
Features (both sides)
– K-style circuit
– Internal supply voltage boosted to 18 Volt for increased headroom in all gain stages.
– External Low Gain toggle switch for switching between standard and low gain, enabling you to more precisely dial in your desired low gain setting.
– Two Internal dip switches for extending the low frequency response, one for low frequency response in the overdrive gain stage and one in the clean signal path.
-External switch to choose which order the signal passes through the two circuits.

The wingman overdrive is built using carefully selected top shelf components::
– VISHAY 1% metalfilm resistors
– WIMA MKP10, MKS4 and FKP2 film capacitors – no electrolytes in the audio circuit.
– VIMEX sealed potentiometers
– CARLING Footswitch
– TAIWAY toggle switches
– PURE TONE MULTI-CONTACT 1/4″ JACK
– Silver plated teflon insulated cable for internal wiring.
– US made DAVIES MOULDING 1470 knobs
– NOS OA91 germanium diodes
– Dimension: 5.72 in x 4.77 in x 1.39 in (145 mm x 121 mm x 35 mm)