Posted by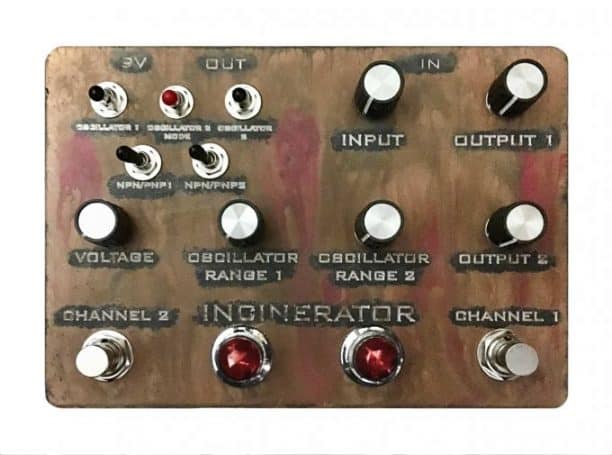 Now, some pedals have better names than others, but… "Incinerator"? We are tempted to say that's the best name ever given to a stompboxl, in particular for this beast by Canadian manufacturer Industrialectric!
Built by hand in Toronto, the incinerator is a dual channel Silicon fuzz integrated by two oscillators whose function is to add an insane unpredictable element. Its size is not for nothing: it has 26 transistors under the hood, and a whole host of tonal options lent by six knobs and five toggle switches.
This is a pedal for creative/noise/atonal guitarists and can deliver a wide variety of sounds from smooth fuzz to synthetic madness, but one of the channels can be made to sound also like a more musical boost or overdrive when needed..
Check out this new demo by the Sound Parcel.
The Incinerator is a pure rare silicon transistor based dual channel fuzz with dual chaos oscillators, It can be used as a synth of sorts and so much more. The Incinerator contains 26 transistors, 5 of those transistors are a special rare silicon transistor that is the beating heart of the beast. This is pure silicon fuzz madness.
Full blown out transistor fuzzes to smooth fuzz and can even be worked as an overdrive and boost. Textured, wild heavy and harsh, but also can be smooth and very musical, it's an instrument onto itself.

FEATURES:
– 2 CHANNELS OF PURE rare SILICON transistor FUZZ featuring 26 transistors
– DUAL chaos OSCILLATORS FOR EXTREME UNIQUE SOUNDS
– 2 MODES OF OSCILLATION FOR THE SECOND FUZZ CHANNEL
– TRANSISTOR STAGE SWITCHES TO GET ALL the SIDES OF THE SILICON MADNESS
– VOLTAGE STARVE
– TRUE BYPASS
– 9VDC POWER OPERATION
– REVERSE POLARITY CIRCUIT PROTECTION