Posted by
'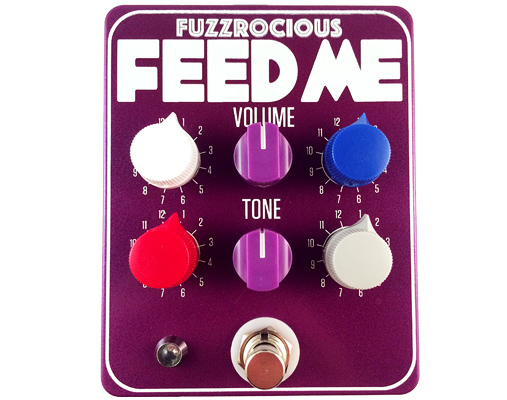 If you think three years of age is too young to work in the family business, Ryan Ratajski of Fuzzrocious Pedals begs to differ. Together with his wife, painter Shannon, he's been designing stompboxes since 2008, letting Kaeden (6) and Raeven (3) paint the "kidpainted" pedals, which are highly recommended for those who enjoy turning knobs blindly.
But besides the quirky and adorable Mom + Pop business structurre, Fuzzrocious has slowly gained a solid reputation for its imaginative high gain pedals, although… one of their latest products, the FEED ME, is actually not a high gain pedal, although it was definitely conceived with distortion in mind: it's an EQ/preamp/tone shaper with level boost potential that applies a blend of high and low pass filters to your signal. Here's the function of each knob, directly from the FEED ME's instruction manual:
VOLUME – makes the output of the circuit louder or quieter.
TONE – moves from bass to treble when turned clockwise. Depending on your selection on the 4 rotaries, the results vary!
WHITE –R2 high pass filter resistors.
RED – C1 high pass filter capacitors.
BLUE – R1 low pass filter resistors.
GREY – C2 low pass filter capacitors.
As you can hear from the demo below, this original five knob EQ circuit opens up a lot of tonal possibilities, and it works as well first in the chain to drive other pedals, or at the end of it to sculpt the distortion or whatever you are getting out of your board.
Definitely an interesting solution for the guitarists interested in getting more variety out of their current set up.