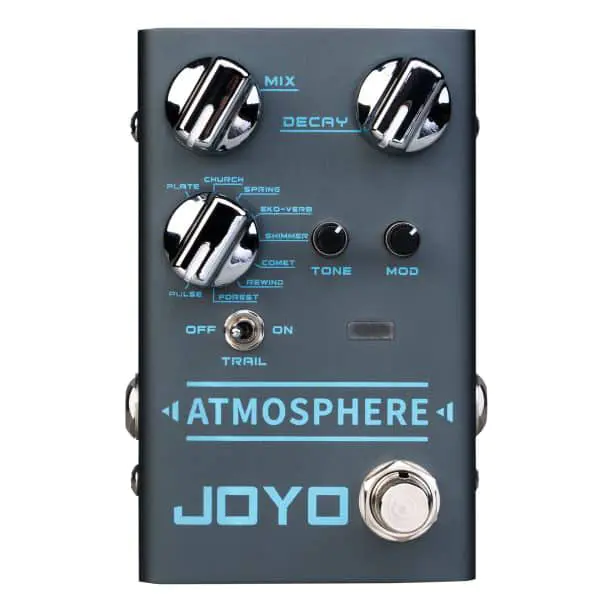 Chinese builder Joyo has been making pedals for a very long time but their super-affordable devices were somewhat frowned upon by stompbox connoisseurs, until Mr. JHS posted, in May 2020, this video declaring their 2018 Revolution Series "the perfect budget pedals."
Selling well under $100, the Atmosphere Reverb is – as far as we can tell – the most affordable multi-mode reverb with more than 3 algorithms (it has 9). Three traditional modes (Spring, Church and Plate) are followed by 6 super-creative ones, with names as abstract as Comet, Forest, Pulse and Rewind.
Knobs for mix, decay, tone and modulation give the player just enough control, while a trails toggle switch adds a feature many modern ambient guitarists can't do without.
Here are the latest videos of the Joyo Atmosphere, which was added to our comprehensive article about Best Multi-Reverb Pedals.
ATMOSPHERE features 9 built-in digital reverb types, including SPRING, CHURCH, PLATE, EKO-VERB, SHIMMER, COMET, REWIND, FOREST, PULSE, apart from the traditional MIX, DECAY and TONE adjustment, it has Modulation effects depth control dedicated for Modulation effects. The TRAIL function switch is for switching on the Trail function, allowing the effects tone to fade out and sound much more natural between switching on and off!