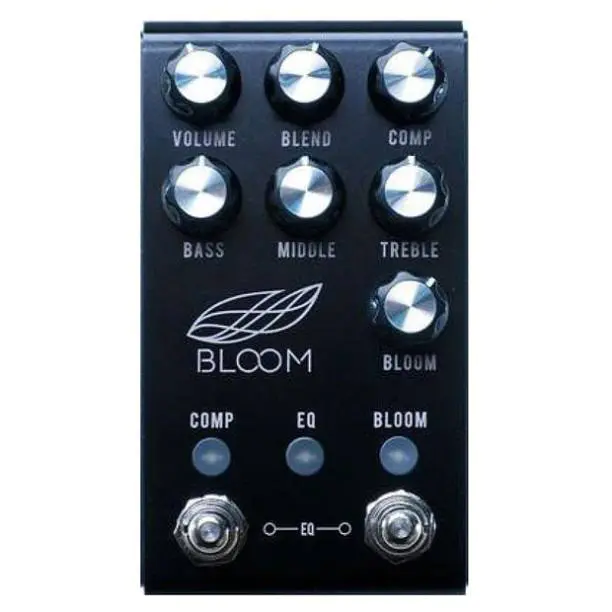 In the last couple of years, innovation in the pedal realm has been mostly about fitting in a compact enclosure what in previous years would fit in larger cases. However, a handful of companies went beyond that goal, and Houston's Jackson Audio belongs to that shortlist. Their Bloom v2 can be easily categorized as a next-gen utility box.
An LA2A-style Optical Compressor with a 3-band studio-grade EQ, the Bloom offers handy extra features like a Blend knob, Presets and Midi compatibility, and an original Boost/Sustainer circuit ("Bloom") that works like nothing else we've seen before:
Designed as both a level booster and sustainer, the Bloom can work as a set boost by quickly pressing and releasing the Bloom footswitch, or by pressing and holding the Bloom footswitch, the Bloom circuit will slowly ramp up the level to the level set by the boost. This ramp-up time, which is programmable, can be used to increase sustain on held notes or to match the dynamics in a song. Once the ramp-up is complete, pressing and holding the Bloom footswitch again will fade the level back down to unity.
The left footswitch triggers the compressor while pressing both footswitches at once will trigger the EQ.
The Jackson Audio Bloom V2 features Six instant access modes/presets optimized for different sonic environments:
Limit Mode. Ultra-fast attack (2.5ms) that clamps any signal and acts as a limiter. White LED.
Country Mode. Fast attack (7.5ms) that is perfectly timed for chicken picking or modern country. Green LED.
R&B Mode. Medium attack (50ms). Magenta LED.
Ballad Mode. Slow attack (120ms) setting. Blue LED.
Slide Mode aka 'Joey' Mode. Adds an additional internal compression stage in series before the primary compressor. Allows for nearly endless sustain on clean guitar parts ala Lowell George from Little Feat. Aqua LED
Aux Compressor. The aux compressor is the internal compressor circuit that is used in Preset 5. There are two trimmers located on the side of the pedal that allow the user to adjust the COMP and VOLUME for this additional compression stage. Orange LED.
As if all this was not enough, it also features a Side Chain jack/loop that allows an external percussive source to trigger compression – for the classic ducking effect, and that can also be used with an external effect like an EQ to tailor the response of the compression.
Lots to chew on here! These videos should halp get a better idea of the sound and the potential of the Jackson Audio Bloom V2 Compressor.
The BLOOM from Jackson Audio is a comprehensive dynamic engine that is designed to give guitarists maximum dynamic tonal control in ways never before possible. The BLOOM v2 – MIDI takes everything people love about our original BLOOM and updates it with MIDI!

The BLOOM v2 – MIDI now offers MIDI control over all 6 compression settings, circuit ON/OFF (COMP, EQ, BLOOM) and bloom level; the bloom level can also be expressed via MIDI!

A three-fold device, the Bloom manipulates the dynamics of the instrument by way of precisely tuned optical compression, equalization, boost and sustain circuits which can be activated separately or in tandem with each other.

Keep reading below to learn how the BLOOM has become a modern classic on countless pedalboards!