Posted by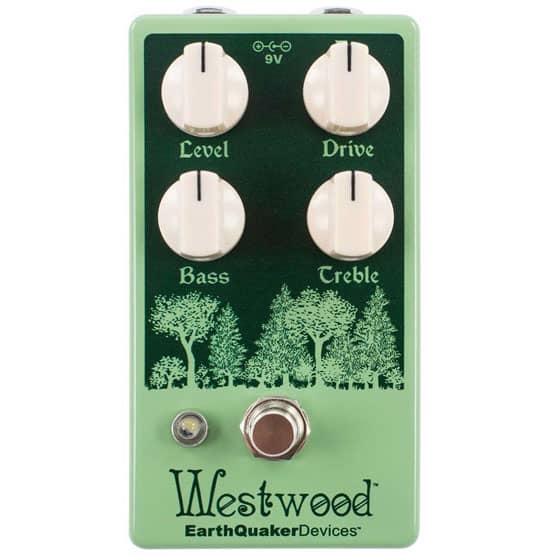 Just in time for NAMM 2018, EarthQuaker Devices announced the release of a new stompbox called Westwood Translucent Drive Manipulator.
This is a drive pedal with a powerful EQ section ("20dB of cut and/or boost at 80Hz and 2kHz") designed to work with low wattage amps, pushing them – according to the description – "into anything from cutting, edge-of-breakup rhythm tones, all the way to articulate, singing lead tones stacked high with pleasing even-order harmonics and  sweet sustain."
Here's a demo by Dennis Kayzer:
This is the demo we shot directly in our Stompbox
Here are the two videos for guitar and bass.
EQD also announced updates to Avalanche Run, the Depths, Hoof Reaper, Rainbow Machine, and Spatial Delivery
Here's more info about the Westwood's gain section:
The Westwood's Drive control sets the level of gain for a near-clean boost at lower settings, to rich, bell-like jangle and chime, all the way to soaring lead tones that are cutting and distinct, but never harsh. The Westwood responds to changes in guitar volume at any setting, and varying the intensity of your pick attack reveals the subtle nuances of your technique and tone.
And here's the full list of features:
Translucent Overdrive Manipulator with two-band active EQ
Perfect for pushing low-wattage amps into anything from cutting, edge-of-breakup rhythm tones, all the way to articulate, singing lead tones stacked high with pleasing even-order harmonics and sweet, sweet sustain.
Powerful active EQ section with center-detent pots has up to 20dB of cut and/or boost to tame icepick-y single coils, give humbuckers some airy top end sparkle, or cut the mud out of a dark sounding rig.
Drive control sets the level of gain for a near-clean boost at lower settings, to rich, bell-like jangle and chime, all the way to soaring lead tones that are cutting and distinct, but never harsh.
Responds to changes in guitar volume and tone controls at any setting
Varying the intensity of your pick attack reveals the subtle nuances of your technique and tone
Treble affects the area around 2kHz and is handy for taming icepick-y single coils, or giving humbuckers a lift to add an open and airy top end sparkle.
Bass control operates around 80Hz and can be used to tighten up the low end of an already dark sounding guitar, or if turned up, will soften your attack, and introduce tube-like sag for a "browned out" sound with plenty of woody, organic bottom end thump that'll make chords think and chunky, while single notes bloom with ringing sustain.
On the bass guitar, the Westwood provides warm low-mids and a smooth top end with plenty of vintage grit and punch.
True bypass
Silent relay-based switching
All-analog signal path
Lifetime guarantee
Current Draw: 15mA
MAP:  $179 USD