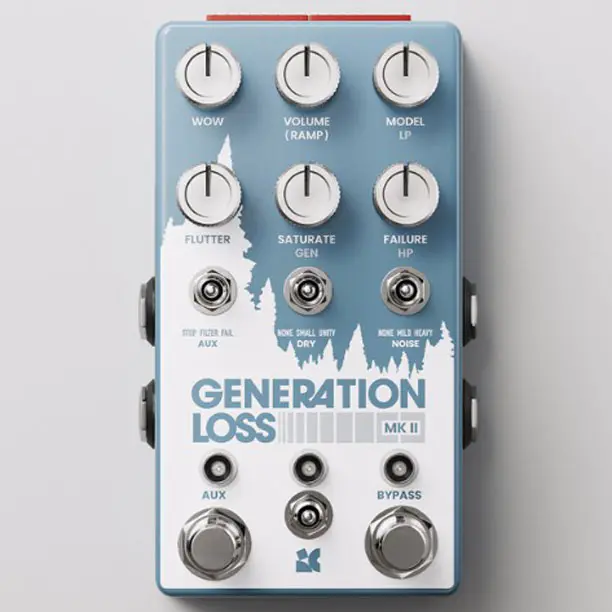 We celebrated in this very blog several of the pedals by Cooper FX, a one-man "cult" builder whose devices were constantly sold out.
One of the biggest fans of this manufacturer is Chase Bliss Audio's Joel Korte, who has never been shy about his affinity for the Cooper FX Generation Loss, citing Tom Majeski's outright genius on more than one occasion and also collaborating with him (and also Keeley) on the Dark World Reverb.
In 2019 the collaboration went even further, with Chase Bliss releasing a limited edition its own version of the Generation Loss. Things developed further in 2021, when Cooper announced the closing of Cooper FX and, a few weeks later, the joining of the Chase Bliss Audio team.
This new version is a complete stereo re-do of this popular pedal by the original designer but under the Chase Bliss Audio wing. Classic mode keeps things exactly as in the original. MKII mode emulates more closely the artifacts of a VHS tape, including different models, malfunctions, and wow and flutter effect, plus tons of other options via the 16 DIP switches in the back.has two modes.
Now (October 2022) the pedal is finally shipping. Check the video below to see what it can do, more about the new features of MKII here.
MKII New Features
Since the original CBA Generation Loss had no "mk" indicated in the name, it's safe to assume that the new version won't be identical to the limited edition released in 2020, now selling for over $700 on Reverb.
This quote on the preorder announcement page confirms our suspicions:
"Tom got down to work and I left him alone and then months later we started talking about what he's actually doing and I realized it's a totally different pedal. […] Generation Loss MKII has a Classic mode that keeps things exactly as they were. Safe. So that's fine. But Tom really wanted to get the VHS thing right this time and that's what the new version is all about. I guess you could say it's the difference between imagining what VHS sounds like (Classic), and actually analyzing and reproducing it (MKII). "
The info about the new version below, copied from the manufacturer's web page, reveals that this will also be a stereo pedal with presets and Midi+CV compatibility.
2-in-1 magnetizer.
Generation Loss MKII is a study of tape in all its forms.

We decided to start from scratch this time and really explore what tape is all about. Get into those crinkles that make it so magical. We took apart VCRs, we analyzed anything we could find with a tape in it, from camcorders to cassette decks.

All available for you to saturate, fail and flutter, until everything sits just right. And if you prefer the way it was before, you can do that too. In stereo.

• Explore different tape models and find your match.
• Introduce unpredictability with the customizable Failure knob.
• True stereo I/O, with unique failure-based stereo spread.
• Flick back to classic mode at any time.

Failure.
Moments of malfunction.
The Failure knob is a collection of the little things that can and do go wrong — snags, drops and wrinkles, the moments of malfunction that break the cycle and give tape that living feel. You can turn off the bits you don't like and customize to taste.

Models
The Model knob steps through a library of tape machines, each with its own unique EQ profile. VCRs, dictaphones, toys and more, all built through frequency-analysis of physical hardware.

Classic mode
We messed with a good thing. Feel free to disagree — turn on the Classic dip switch and you'll be right back to the Generation Loss of old. Just like you remember it, except in stereo.

Modulation
Individual Wow and Flutter knobs to get the warble just right. Blend the two for that familiar, wistful motion, or use in isolation for randomized vibrato, quivering chorus, and more.

Stereo.
Generation Loss MKII is the first stereo pedal in our classic format. Stereo in and out, mono in stereo out, and a unique Spread option that uses the Failure knob to create a malfunctioning stereo image.

Expand and integrate
Generation Loss MKII features advanced connectivity and customization options including MIDI, CV and Expression control, presets, and internal modulation of any or all its knobs.
Here's the back panel of mkII: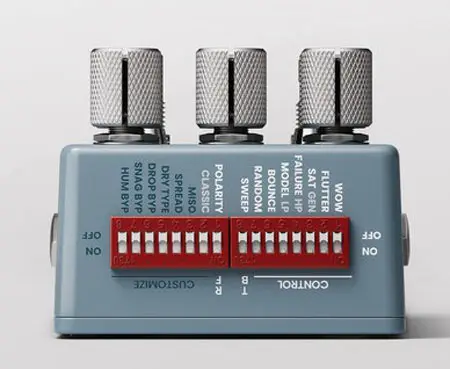 We added the Generation Loss to our article about the best tape echos.
—
Chase Bliss Audio Generation Loss Limited Edition (2019)
The original unit is named after the phenomenon that takes place when a piece of physical media is copied over and over again until it experiences physical degradation; that concept is then transmitted into the audio realm. The Generation Loss got the Chase Bliss treatment, combining the already robust future set of the original with Chase Bliss's hyper-expressive control interface. The pedal was built in very limited numbers and commands a super inflated price tag in the usual locations.
This version of the lo-fi VHS emulating pedal adds several new features, in keeping with Chase Bliss Audio's classic format, featuring two footswitches, six knobs, four toggle switches and 16 DIP switches in the back panel.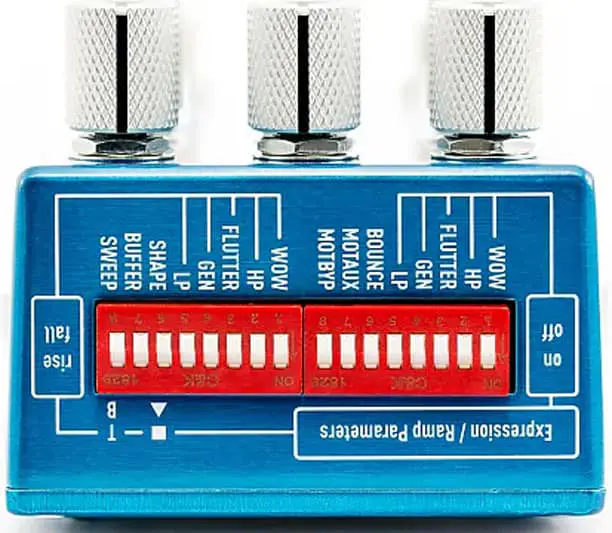 "What does this pedal do?" one may ask…
Generation Loss refers to the decrease in sound quality and introduction of noise and sound artifacts each time a copy is made on magnetic media such as tape. Random pitch fluctuations, filters to cut down on the signal's bandwidth, sample rate reduction, and noise are all brought together in this pedal to mimic that sound without the need for a broken VHS player.
We don't have the time to go through the various features, but the Knob video below does – as always – a great job in highlighting what's special about this pedal. And for those who want more, there are two comprehensive PDF manuals here:
Main: https://tinyurl.com/y48w7paf
MIDI: https://tinyurl.com/yxw8skkp
Chase Bliss Audio Generation Loss mkII, Builder's Notes
This is the sound of nostalgia.

Chase Bliss Audio & Cooper FX are teaming up once again to take everything you love about the original Generation Loss while making some tweaks based on customer feedback and adding the additional control Chase Bliss is known for.

Generation Loss™ brings together all aspects of tape degradation and uses a combination of effects to hone in on that sound we're all familiar with.

Generation Loss refers to the decrease in sound quality and introduction of noise and sound artifacts each time a copy is made on magnetic media such as tape. Random pitch fluctuations, filters to cut down on the signal's bandwidth, sample rate reduction, and noise are all brought together in this pedal to mimic that sound without the need for a broken VHS player.

PDF Manuals can be downloaded at the links below.

Main: https://tinyurl.com/y48w7paf
MIDI: https://tinyurl.com/yxw8skkp