This giveaway has ended, click here to see the winner's name.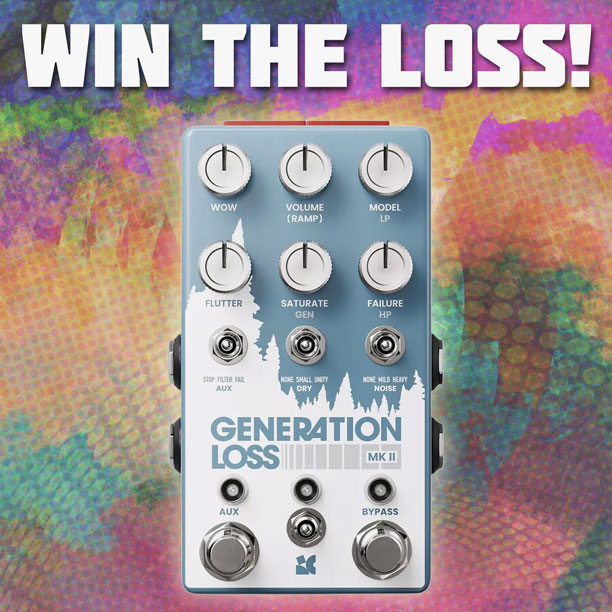 The Chase Bliss Generation Loss MkII (a pedal you'll be able to play with at our upcoming 1st London Synth & Pedal Expo) is the ultimate lo-fi pedal, and this week a lucky reader can take one home – or rather, get it shipped!
Born as a Cooper FX pedal that simulates cheap tape machines, it was initially "chaseblissified" through a collaboration between the two companies in 2019.
After Cooper FX's Tom Majeski joined the Chase Bliss staff, MKII was born and released in October 2022. This new version is a stereo redesign comprising two modes: Classic Mode is a complete stereo re-do of the original, while MKII mode emulates more closely the artifacts of a VHS tape, including different models, malfunctions, and wow and flutter effect. The 16 DIP switches in the back let you add a lot of extra functionality.
Check out the video manual of the pedal:
All you need to do to win this amazing box is sign up below by February  24th, 2022 – and perform your infallible good-luck rituals!
---
By clicking the "Submit" button, you agree to the Official Rules & Regulations. Signing up for this giveaway implies consent to be added to the mailing lists of Delicious Audio and Catalinbread.
This Giveaway Has Ended, The Winner is…
Peter from Fort Worth, Texas is the winner of this giveaway. We published the drafting process in the comment section of this Facebook post (you should be able to see it even without a Facebook account, just click on the "Comments" link on the bottom right).
THERE'S A NEW PRO AUDIO GIVEAWAY HERE!
—