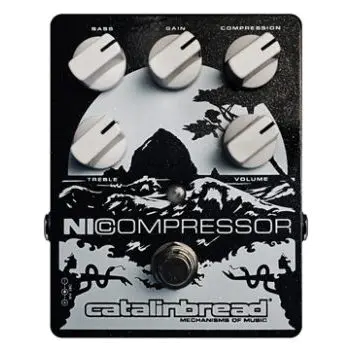 After becoming one of the leading boutique pedal manufacturers in the US, in 2016 Portland's Catalinbread was shaken by the passing of founder Nicholas Harris. The company had to face a tough period of restructuring but managed to plough through the odds and is now announcing a new pedal that still bears Harris' fingerprints.
The NiCompressor (pronounced "Nigh Compressor") is a design Nicholas was working on before his sudden passing, and was finalized by the new team that succeeded him. Unlike your regular compressors, it features a two band EQ section and a post-compression gain that allows you to dial in a little grit. Inspired by the Loco Box "The Choker" of the 1970s, the actual compressor circuit is controlled by only one knob – working on attack and release in a way that's very musical and somewhat reminiscent of a vintage Dunlop Dynacomp.
This simple combination of circuits delivers a true Swiss army for your tone that opens up a varied palette of color and dynamics, working as a medium between guitar signal and amp response.
Check out the videos below to hear how it sounds.
The NICOMPRESSOR (pronounced "Nigh Compressor") offers distinctive tone shaping capabilities. It achieves exceptional compression dynamics while keeping higher-frequencies intact, making your guitar sound incredibly full and fat, without compromising your tone. In seeking to honor, improve, and expand this concept, Catalinbread developed a broader range of functionality and finely-tuned controls.

BASS & TREBLE
? Expanding on the concept of uncompromising tone, these knobs boost desired frequencies, bringing them to the surface.
? The Treble brightens your tone, making it sparkle, even when compressed.
? The Bass enhances the lower-frequencies and increases sustain when turned up.

GAIN
? The Gain allows you to experiment by adding some grit or grain to your sound.

COMPRESSION
? Staying true to its inspiration, this single knob design allows you to find the sweet spot and make adjustments simply and effectively.

VOLUME
? When turned up, the compressor sends out a hot signal, boosting from within.
? When turned down, the next effects in the chain boost the compression.