Updated Jul. 8, 2020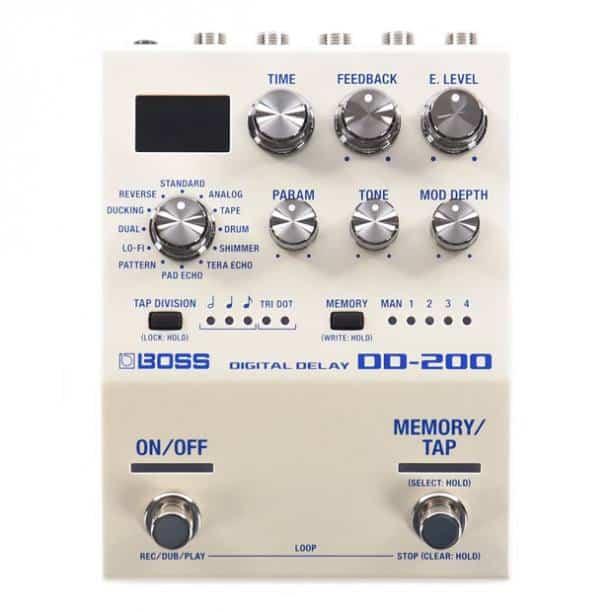 The first videos of the BOSS DD-200 Digital Delay are surfacing and the feedback is very positive.
Operating at 32-bit and 96 kHz sampling rate, this is effect belongs squarely to the next generation of digital pedals, since most digital delays operate at 16-bit / 44,100 Hz. This means a more dynamic and detailed sound, in particular on the high frequencies.
The DD-200 features 12 modes, six knobs for on-the-fly control, tap tempo, and four slots for presets. There's also a phrase looper with up to 60 seconds of recording time.
Footswitches are customizable, and it supports external devices for expanded control, like external footswitches, an expression pedal, or MIDI.
Here are a few videos of it!
With the 200 series, BOSS introduces a new generation of pedals that pack advanced sound and versatility into a streamlined size that saves space on your board. Grab-and-go controls and multi-function switches make operation easy and intuitive, while onboard memories allow you to store multiple setups for instant recall. All 200 series pedals feature premium audio quality with 32-bit AD/DA, 32-bit internal processing, and 96 kHz sampling rate, as well as support for additional control via external switches, an expression pedal, or MIDI.

The BOSS DD-200 Digital Delay brings together sounds and features inherited from the flagship DD-500 into an even smaller footprint. Twelve different modes offer an inspiring variety of delay colors from modern digital to classic analog, letting you dial up everything from basic echoes to rich ambient pads and everything in-between. There's also a looper that's always ready to use, plus a selectable carryover function for seamless transitions between memories.

Class-leading sound quality with 32-bit AD/DA, 32-bit floating point processing, and 96 kHz sampling rate
Twelve versatile modes provide a wide range of delay types
Fast, easy operation with hands-on controls
Real-time panel setting and four memories for storing favorite sounds
Phrase looper with up to 60 seconds of recording time
Panel Lock function disables controls to prevent unwanted changes
Customizable multi-function footswitches for bypass, tap tempo, memory selection, looper control, and more
Support for expanded control via external footswitches, an expression pedal, or MIDI
Full MIDI I/O provided with mini TRS jacks (BMIDI-5-35 adaptor cable available separately)
Micro USB jack for firmware updates
Analog dry through and buffered bypass
Runs on PSA-series AC adaptor or three AA-size batteries