You may be also interested in our article about the best analog-style synth pedals for guitars and the one about the best creative pedals for synths that accept line in.
—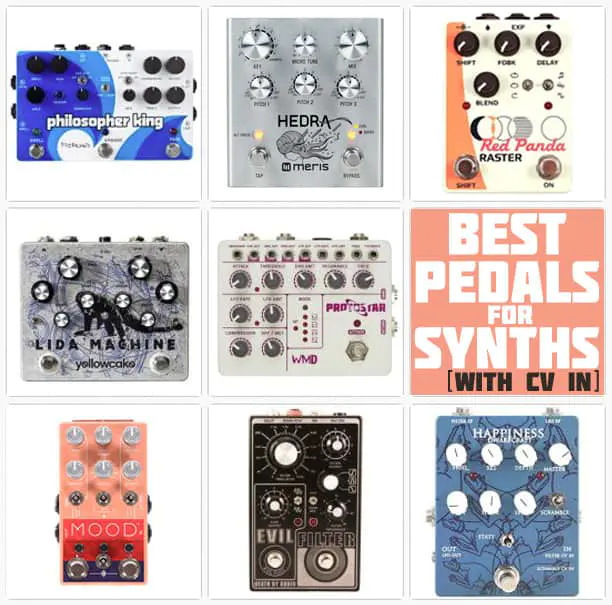 Updated on May 03, 2022
A Guide to the Best Pedals for Synths with CV Compatibility
CV (an acronym for "Control Voltage") is a system that allows the remote of parameters of synths and pedals remotely – exactly like Midi, CV surpasses that format in smoothness and flexibility. With just a modicum of planning, CV is easy to integrate into any setup and doesn't require any special cables. It's truly one of the more expansive control platforms, and it's only becoming easier to operate.
In this article, we tell the story of this format, its application to guitar pedals, and we list the best pedals that are compatible with it.
Expression and Control Voltage, a Parallel Story

Right around the same time in the late '60s, two men, thousands of miles apart from one another, reinvented the way folks pluck electric guitars.
[Click the black arrow to read more about this topic] – 
CV vs. Expression: the Differences
While expression and CV circuits are nearly identical, they differ in a crucial way: expression controllers operate passively and requires voltage to be fed into them, so that they may manipulate a parameter via an onboard potentiometer, then redirect the CV back into the original box. 
[Click the black arrow to read more about this topic] – 
Using the Expression Input as a CV Input
Some kind of urban legend out there is spreading the belief that any Expression pedal input works the same way as a CV in and will, therefore, accept any CV signal. As mentioned in the previous paragraph, that's not exactly true. There are risks involved in trying that experiment, but you can find extra enlightenment on the topic (and a mod that may work for you) in this article.
BEST CV CONTROLLER PEDALS
Click on the black arrow to read more about these CV Controller Pedals.
EFFECT PEDALS WITH CV OUT
Besides foot controllers, many regular stompboxes are capable of handling CV information, mostly through a female CV in 1/8″ jack. A more limited number of pedals also feature a CV output that is normally tied directly to the pedal's low-frequency oscillator (LFO), which in most cases is used in the stompbox's circuit for some form of modulation. Here's a list of the best ones we found:
Click on the black arrow to read more about these pedals with CV Out. —
PEDAL LINES WITH INTEGRATED CV COMPATIBILITY
Click on the black arrow to read more about these pedals with integrated CV compatibility.
There are plenty of single pedals offering CV compatibility, here are a few lists for you, organized by kind of effect.
FILTER PEDALS WITH CV IN
Filters are central to subtractive synthesis and are therefore the most common effects associated with synths. Here's a list of the ones we found that feature a CV in.
—
ADDITIVE SYNTHESYS PEDALS WITH CV IN (Pitch Shifters)
If filters are central to "subtractive synthesis,"  is there an "additive synthesis"? Yes there is: it consists in using existing signals to generate other signals, something these pitch-shifting pedals do very well.
SYNTH PEDALS WITH CV IN
These are pedals that feature internal oscillators tracking the input, so they may be redundant if you already have a synth, but check out the PLL ones, a type of circuit that transforms the input into a square wave and then divides that wave into higher or lower frequencies like octaves or fifths.
MULTI-FX PEDALS WITH CV IN
These pedals could be exactly what the doctor ordered for the synth and keyboard players in need of a variety of effects in one box.
—
MORE CV COMPATIBLE PEDALS ORGANIZED BY TYPE:
—
Here's a useful video about using CV with guitar pedals.
By Nicholas Kula and Paolo De Gregorio