Posted by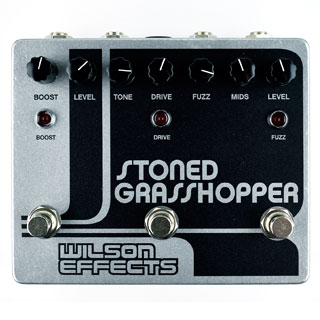 Wilson Effects is a Guilford, Indiana based pedal builder with a noteworthy number of pedals under its belt (we are talking about 20+!), mostly gain related.
Many of this manufacturer's most recent offerings are centered on circuits featuring multiple gain stages. Just Nick picked up one of these, the Stoned Grasshopper Fuzz/Overdrive/Boost for this demo below: it's a three footswitch stompbox that combines Boost, Overdrive and Fuzz in one box.
https://www.youtube.com/watch?v=o6tkAOrPmDA
FUZZ

This soundscape of tone begins with the fuzz side of the pedal. With three exterior controls and an interior bias trimmer to control the ripping fuzz sounds of the Stoned Grasshopper you have a basic volume control to adjust the signal strength of the fuzz section.

The next control is the mid-range control. Sculpt your fuzz tones even further with this added feature not typically seen on vintage fuzz boxes. Last but not least is the fuzz control. This control works like a typical vintage fuzz control. To get the most out of this control I would suggest setting the control to three o'clock or more and using your guitars volume knob to adjust the intensity.

Last but not least is the internal bias trimmer. Tune your fuzz to a sputtering dying fuzz effect or tune it to be a more fuzzy warm sound. All this control over a vintage seventies based fuzz circuit.

OVERDRIVE

The overdrive section of the pedal is based on the most popular overdrive ever made, the tube screamer. While the circuit is based on this infamous pedal there are various mods to the circuit to allow you to get more drive as well as an altered tone stack that accompanies the altered drive section. This allows the circuit to have more transparency at lower drive settings.

The controls on the drive section are simply, level, tone and drive. Last but not least is the clean boost section.

BOOST

The boost is a mosfet based booster allowing for crystal clean boost that is capable of overdriving a clean tube amp. So whether you use this to boost your signal or to drive your overdriven tube amp into oblivion it is sure to please.

At the rear of the Stoned Grasshopper there is a unique jack configuration enabling you to separately route the fuzz section of the pedal to anywhere in your signal chain. – more info here.