Posted by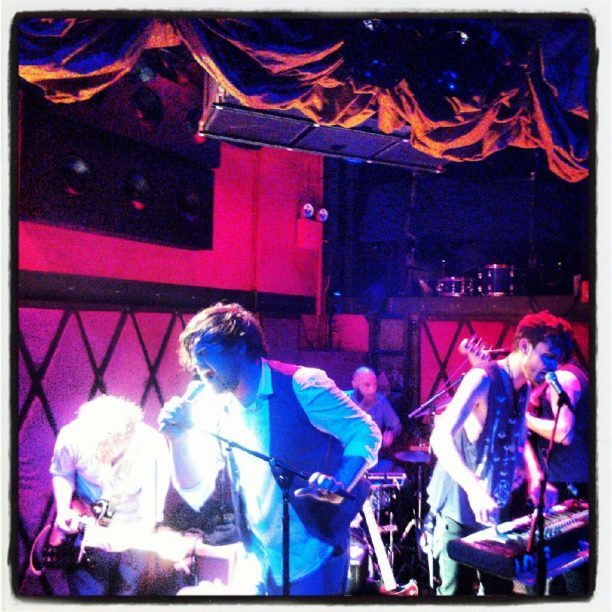 | | |
| --- | --- |
| | The Stationary Set's Gear: AKG 414 |
| |   " Literally all of the organic sounds on our upcoming album are recorded with the AKG-414. We call it "the Swiss Army knife of microphones" and it really has behaved as such.  " |
| | |
When it comes to melody, Brooklyn's The Stationary Set is anything but shy. Their brand of electro pop is dramatic and soulful – these 5 dudes are not afraid to get feely and they're mindful of said feeliness. On their Facebok page, it's mentioned that they strive "to make the 'pop' in pop music less of a dirty word." Their cover of Pat Benetar's "We Belong" is an embodiment of this; pulsating, hazy electro lends the '80s classic new depth. The electronic touches that pepper their sound are never isolating, they just expand it. In fact, The Stationary Set finds their sound at its best when let loose within a large space. And, since forming in 2009, they've had their fair share of big venue performances. They shared the stage with Phoenix and Mumford & Sons and most recently played a sold out show at Highline Ballroom along with January Jane. The band is recording an album over the course of the winter, so stay tuned for more warm and fuzzy goodness.
How much of your recording is done at home versus in the studio? 
We're approaching this new record differently than we have with our past work. We are recording and engineering all of the sounds in our rehearsal space, as minimally and utilitarian as possible, then taking everything into ableton and manipulating it where it is needed.
What are the pieces of equipment that you find particularly inspiring when recording at home? 
Literally all of the organic sounds on our upcoming album are recorded with the AKG-414. We call it "the Swiss Army knife of microphones" and it really has behaved as such. From vocals to drums to guitars, it has been an important tool. We've tracked nearly everything into ProTools; all the post-work and mixing we have handled in Ableton. In particular we like to use the Wave plugins for the vocals. The CLA vocal plugins as well the Vcomp compressor have been vital. We really like all of the
Stillwell Audio
plugins (which are free, America), and generally we like to use
Verbiage
as our reverb unit. It's a fantastic digital verb emulator that is easy to use and sounds great. With ambience we like to use stereo wideners, like the CMX or any Wave chorus effect. Also, maybe the most useful VSTs have been
SoundToys
.
Echoboy
will add grove to literally anything, and
Crystalizer
works as a great layering tool. Synth wise, we are using an analog
Korg Poly 8
, a
Juno HS60
, and an arsenal of soft synth ranging from Reason synthesizers to
Zebra
(which has incomparable string sounds). On a final note here, with all of these great digital tools at our disposal, we are rigorous about keeping some elements totally organic.
If you use a studio, what do you record there and what do you record by yourself and why?
Again, we are trying to handle this new effort entirely on our own. For past albums, we've used the studio for drums and vocals primarily. Recording outside of a studio has its limitations, but can also be really liberating when you look at all the corners that need to be cut…
What one piece of hardware/software would you most like to add to your recording setup (cost not an issue)? Why?
A MAC TOWER MOSTLY BECAUSE MY COMPUTER MELTS AND CRIES WITH HOW HARD I WORK IT OH MY GOD. Also, any and all outboard analog compressors. And a clean pair of shorts.
Do you expect your next record to be self-produced, or would you like to work with a producer? If it's the latter, who would you most like to produce your band, and why?
This is tough. We are attempting to produce it ourselves, as some members of the band have begun to produce other artists lately. But always, we have a bit of a laundry list of dream producers… most of which live here in Brooklyn. (If you're reading this Chris Coady, consider it a missed connection).
Do you use rack effects or guitar pedals to forge your own sound? If you do, please list the ones you use the most and let us know why you love them.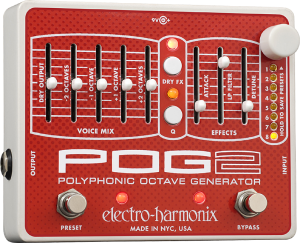 We certainly use guitar pedals to create our own sound. We have three members who play with effects. Josh Davis, who handles ambient and ethereal guitar roles, uses two separate boss delay pedals, an Electro Harmonix POG guitar synth, a Line6 Echo Park delay box, reverb, a Boss Blues Driver overdrive, and maybe most importantly, a volume pedal to control his sound and give it an ebb and flow. I (Josh Hoisington) handle some lead and rhythm responsibilities. I have a simple set up that includes a blues driver, Echo Park, Verbzilla reverb unit, and an Electro Harmonix SuperEgo, which is an infinite sustain pedal that creates some interesting artifact sounds. Gabriel Kubitz, who plays bass, uses a micro synth on his bass that behaves like a overdrive, as well as a boss tap delay. He introduced a Line 6 delay pedal that he uses vocally as well- it's really added a new dynamic to the vocal element of the band. Our drummer, Logan Baldwin uses a Roland SPDS drum pad, which has really helped develop our sound and bring it into the 23rd century.
Is there a person outside the band that's been important in perfecting your recorded or live sound?
Mike Beck has been instrumental, both as a friend and a colleague. He's been a bit of a mentor throughout the recording process. Not to mention, he co-produced and engineered our last album. Jordan Belkin has also been an integral piece in shaping the new album. As a well-respected show promoter and industry insider, he's helping craft these songs from a perspective other than our own.
What other artists would you say have had the biggest influence in your approach to recording? Why?
This changes frequently. We all have very different influences, which is why we sound the way we do. We all agree that the new National album sounds great, as well as Everything, Everything, Jon Hopkins, James Blake and literally so many others. But we also find ourselves focused on our friends, who are trailblazers, like Lord Huron, Kishi Bashi, Hooray For Earth, and Monogold, to name very few…
Would you say that your live show informs your recording process or that your recording process informs your live show? Both? Neither?
That's tough. We take a lot of pride in our live show. It is powerful and refined, exciting and focused. We've really tried over our previous albums to capture what we do live, without too much studio magic. On this upcoming album, look for a tasteful balance of both.
Is there a piece of equipment that you find particularly useful on stage?
MAC COMPUTERS BROUGHT TO YOU BY MAC COMPUTERS DOT COM.
With bands doing more of everything themselves these days (recording, performing, self-promoting, etc.) and the evermore multimedia nature of the world, how much effort do you put into the visual component of your band – fashion, styling, photography, graphic/web design, etc.?  Do you do these things yourself or is there someone that the band works with?
We constantly postulate about different visual ideas, some that we have actualized. We've worked to develop a certain aesthetic on paper. But live, we dress like some dudes who play music and are friends…because we do and we are. I hate to admit it, but I still don't have twitter account and I think that's fine…? #thatsfine
What do you find to be the most challenging aspects of the recording process? On the flip side, what aspects are the most rewarding?
The most rewarding will always be the final product. What I like the most is the creative process of GETTING CREATIVE. We've literally recorded the album thus far with a single mic. It's all the corners we've cut that make the direction we're heading with this album so different, so divergent.