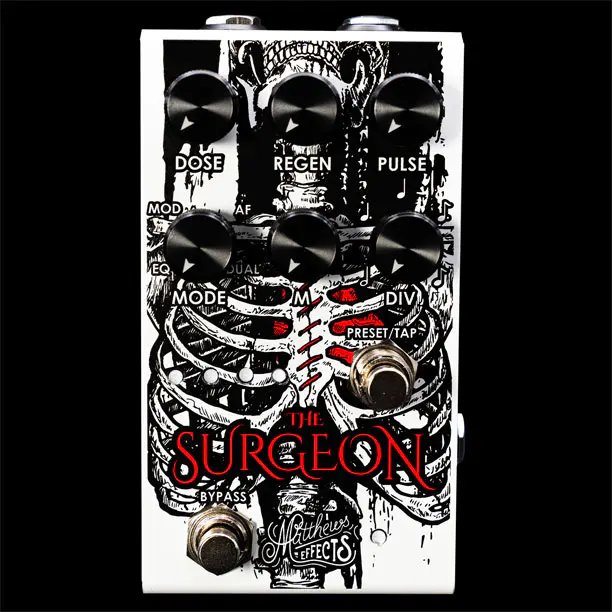 The Matthews Effects The Surgeon Delay is a fully-featured, mono, multi-mode compact delay offering 8 algorithms organized in four groups of two (EQ, Modulation, Auto-Filter and Dual) and editable through a new PC and Mac app launched together with the pedal.
Packing in a compact case all the features found in much larger stompboxes (Tap Tempo, Presets, MIDI in/out, Midi Clock, USB connectivity, Expression, Tails option, etc), the Surgeon skips the complex and often frustrating navigation brought by screens and puts all the most important controls at the player's fingertips with the following knobs:
DOSE: Dry/Wet blend
REGEN: number of delay repeats.
PULSE: delay time.
MODE: Delay Algorithm.
MUTATION: Controls different parameters depending on the mode.
DIV: tempo subdivisions: 1/2, dot-1/4, 1/4, dot-1/8th, 1/8th
The Preset/Tap footswitch deals with tap tempo or – if you double press and hold it – scrolls through the first 4 presets, out of the 127 that can be stored in the app.
Here's a description of the modes, each of which has two types, for a total of 8 algorithms:
EQ
It places an EQ in the feedback loop so that the delay's feedback will continually get darker (like in analog and tape delays) or brighter.
MOD
The Depth mode has a fixed speed for the modulation LFO, while depth can be tweaked through the Mutation knob. The Rate mode has instead a set depth and adjustable LFO rate.
AF
An Auto Filter that places a filter POST-delay and works just like the Mod mode, with Rate mode and Synch mode..
DUAL
This mode gives you two different delay taps, with delay 1 placed in the feedback loop and delay 2 triggered by Delay 1. This allows you to create unique delay patterns and textures that you can't create with only one delay. In Free mode, delay 2 is independent of delay 1 and is not affected by tap. In Sync mode Delay 2 can be set as a division of delay 1 so as you tap or adjust delay 1 in any way, delay 2 will always be a division of that original time and keep them synced together.
Another feature creative guitarists will enjoy is the Ramp functionality, engaged by holding down the bypass footswitch. This by default will take the Regen value to 100% when the footswitch is held, slowly returning back to the knob value when released. However, it can be assigned to any parameter through the app.
Have a listen to the demos of the Surgeon, below. We added this pedal to our article about the best multi-mode delay pedals.
Matthews Effects The Surgeon Delay, Builder's Notes
We wanted to create a delay that packed in all the advanced features customers wanted but also an accessible experience that made it easy to plug in and instantly get inspired with the music you are able to create. This created the Surgeon.

Choose between 8 different algorithms divided into 4 categories Eq, Mod, AF, and Dual. Each with their own unique abilities and sounds.

With Tap, Presets, MIDI, USB, Expression, Ramp and a Computer editor there is no shortage of ways to control and augment your delays.

FEATURES

MIDI CONTROL OVER EVERYTHING!
The Sugeon can receive MIDI over 3.5mm TRS or via USB. Use MIDI to control all its features and parameters

CREATE PRESETS!
The Surgeon has a total of 127 presets. 4 can be accessed with the onboard "Preset" switch or you can access the expanded presets via MIDI.

COMPUTER EDITOR
Ccreate presets, edit globals and adjust controls in real time via the Surgeon Computer Editor

MIDI CLOCK
The Surgeon can receive MIDI clock to sync its delay time

RAMP
Ramp any and all controls to adjustable positions creating unique musical experiences.

EXPRESSION
Use a expression pedal to control any and all parameters to adjustable positions with unique toe and heel positions for each control.

UNIQUE FEATURES
The Surgeon V2 has a deep set of features to help you augment and control your delays in unique ways!

PRESETS
The surgeon has a total of 127 presets for you to store your creations in

MIDI IN/OUT
The Surgeon V2 accepts PC and CC messages allowing you to do everything from controlling bypass, jumping to one of 127 presets available and controlling any of the knobs or features all through MIDI.

USB
You are able to send and receive midi via USB but it also connects to our computer editor that lets you create presets, adjust global settings, update firmware and more! The USB can also be used to power the pedal when using the editor and making updates (USB does not provide enough power for use with your guitar so make sure to plug both in if you want to play while updating)

EXPRESSION JACK
We wanted to do more than just allow you control a knob with expression so we have allowed you to control any or all parameters via expression and also to set the start and end points for those expression sweeps. Adjust one control a little and another drastically, all with the same sweep of your expression pedal.

RAMP
By holding down the bypass footswitch you will engage the Ramp feature. This is by default set to the "Regen" control and by holding the footswitch, it will bring the control to its maximum setting. When released it will slowly return back to wherever the ramp started from. Not only can you ramp the Regen control but you can ramp any and all controls on the Surgeon and set their ramp end points. Ramp one parameter to its max and another to its minimum allowing you to create unique musical events in your playing.

COMPUTER EDITOR
Launching with the Surgeon V2 is a complete computer editor for Mac and Windows. The editor gives you full control over all features and settings on the Surgeon and allows you to create and organize your presets. The computer editor will also be where you can download and install firmware updates for the Surgeon. The editor is not required to use the Surgeon.

TAILS/BYPASS
Choose between Bypass mode that hard cuts your repeats when you turn the pedal off or Tails mode which allows your repeats to continue based on where the regen knob is set

ALGORITHMS:
The Surgeon V2 has 8 different algorithms divided into 4 modes and each with their own unique abilities and sounds.

EQ
Gives you two different EQ'd delays. What is unique about this EQ is that it doesn't happen before or after the delay but rather in the feedback loop. This means that as your delays feedback they will continually get Darker or Brighter. This is great for emulating both analog delay (darker repeats) and tape delay that continually gets brighter. Choose the LP mode for the repeats to get darker or the HP mode for the repeats to get brighter.