For a more comprehensive take on delays, see our Best Delay Pedals, by Type article. 
TABLE OF CONTENTS (click to jump)
For the guitarists who live and breathe delay and enjoy tweaking and experimenting with this effect's many variables, the modern multi-mode, digital, stereo delay pedal is the ultimate gift from heaven (and not necessarily an expensive one).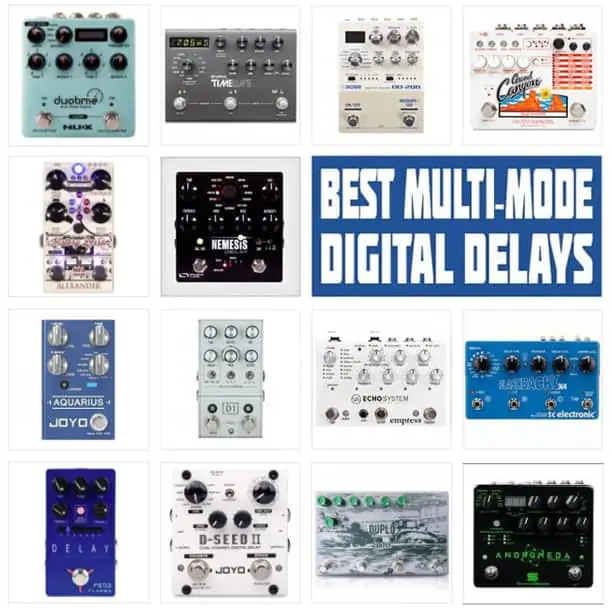 Updated on August 21, 2023
A Guide to the Best Multi-Mode Digital Delay Pedals
The pedals in this category are sophisticated, flexible, complex machines that allow access to several algorithms emulating all sorts of delays, from analog-style to digital, from modulated to emulated, from ping-pong to reverse – you name it. They tend to feature several controls that allow you to tweak every setting of the delay to suit your aural vision.
Find out what makes them unique in the galleries below (mouseover/tap for description, click/tap again for video).
Best Multi-Delay Pedals with a Large Footprint
The effects in the list are true do-it-all, fully-featured workstations with very deep functionality. Because of this, they require more real estate than your average compact pedal. Their learning curve is not the shortest, but the sonic possibilities they offer are almost endless.
Besides the multi-modality, all these stompboxes have the following features:
Tap Tempo
Delay Subdivisions
Presets
Stereo Output
DSP engine
Midi and Expression connectivity
Non-compact footprint
Here are the top 3.
Strymon Timeline
Loved by many, it's lush sounding with deep functions, without being overly complicated, a studio-grade unit that includes 12 "delay machines" delivering anything from classic tones to cutting edge ones. 200 presets, a routable 30-second looper, and Midi implementation.
Pros: A true gold mine of incredible delay tones! Cons: Time for a smaller V2 version?
Line 6 DL4 MkII
MKII of the legendary pedal that pioneered the delay multi-modeling trend. Not one bit smaller than the original, it retains most of the functionality and all of the modes of the original, adding 15 new delay models, a selection of reverbs, two loopers with up to 240 seconds or recording time, XLR Mic in, and Midi connectivity.
BOSS DD-500
The older, bigger brother of the BOSS DD-200, it is still a best-seller, notwithstanding the larger case. It has dual delay channels and deep editing possible directly in the box. They share most of the algorithms, but the 500 has 4-band EQ, control over modulation, ducking, feedback damping, and much more for each mode – while the 200 has a Tone control, Modulation depth, and a multi-purpose Parameter knob.
And here's the full list of pedals from this category with descriptions and links to videos, in the gallery below:
—
—
Best Multi-Mode Delays with Smaller Case (fewer features)
For those who are happy with a scaled-down (and significantly more affordable) version of these workhorse devices, there are several compact or semi-compact delays that offer many features of the powerhouse delays we included in the first list. In some cases (Electro-Harmonix, TC Electronic, and Line 6) these share the same algorithms as their bigger siblings.
Here are the top 3:
Keeley Halo
A compact dual echo with a true stereo path, delivering up to 1500ms per channel with a ton of features for its size, including presets, tap tempo, 5 delay rhythms (i.e. modes), optional modulation, and a high degree of tweakability. Built with Andy Timmons, it features a preset that recreates his modulated dual-echo sound. The Saturate knob simulates the compression and warm saturation of tape.
Pros: Beautiful-sounding and full of range. Cons: Pricier than its competitors and a little harder to navigate.
Electro-Harmonix Canyon
A Mono compact, multi-mode delay that does it all, including looping, shimmer, and subdivisions. Creative guitarists will appreciate the Sample & Hold Function – "glitch" at its finest.
Pros: Incredible selection of sounds in a compact format. Cons: No stereo. Figuring out the Tap Tempo subdivision functionality can give you a headache.
BOSS DD-8
A Stereo In/Out digital pedal with up to 10 seconds of delay featuring 11 modes, from the usual classics to creative modes like Glitch, Reverse, Shimmer, Mod Warp, and also a Loop mode. Tap Tempo and Hold functions are integrated within the only footswitch. Includes Trails option and external connectivity for remote tap tempo and expression pedal.
Pros: Tons of great-sounding modes (and a looper), in stereo. Cons: No onboard Tap Tempo, clumsy subdivision system.
And the full list with descriptions and links to videos in the gallery below:
—
Best Multi-Delay Pedals  in Mini Format
If you are looking for even smaller multi-mode delays, there are some listed in this regularly updated article about Mini Delay Pedals.
Multi-Mode Digital Delays we omitted from this list
There are several other compact multi-mode delays on the market, in particular with 4 or fewer modes (for example, by Walrus Audio, Old Blood Noise Endeavors and Red Panda), but we wanted this list to be about traditional delays, and these other devices tend to have a more creative if not experimental approach to echo. We are working on a list of creative delays, so stay tuned!
We also omitted units that feature both Delay and Reverb, you'll be able to find a selection of these in our article about the Best Ambient/Shoegazer Pedals.
—